June 3, 2014 Svelte, LLC debuted The Politics of Fashion: D.C. Unboxed.  Elaine Mensah, of Svelte, LLC began work on this film in 2012 and includes an ensemble cast from designers, media, photographers, PR, stylists, and more discussing the DC fashion industry, how the DC fashion marketplace is changing, areas of growth, and a look at DC's retail and fashion marketplace as an industry whole. This in depth look at DC's fashion industry and the economy behind it is a must see!

Cast Members include: James Cornwell of Cornwell Styling, Kate Glassman of Washingtonian, Christopher Reiter of Muleh, Aba Kwawu of TAAPR, Lynda Erkilitian of T.H.E. Artist Agency, Ada Polla of Alchimie Forever, Miss J Alexander Runway Coach, Karen Shallet of DC Magazine (DC Modern Luxury), Andre Wells of Events by Andre Wells, Marissa Schneider of Gilt City DC, Tim Coburn Photographer, Ricki Peltzman of Upstairs on 7th, Maggy Francois Fashion Producer, Nicole Aguirre of Worn Magazine, Susan Cannaday of Bloomingdale's Chevy Chase, Taimur Baig Fashion Designer, and more. 
Elaine Mensah, Svelte LLC
Elaine Mensah of Svelte LLC & Karen Shallat of DC Magazine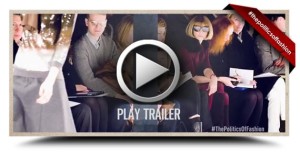 For the latest news on the DC fashion industry and to see where you can view The Politics of Fashion, http://www.thepoliticsoffashion.com.