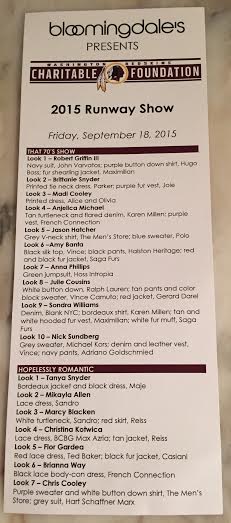 Friday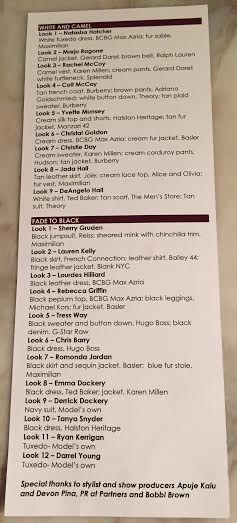 September 12th the Washington Redskins partnered with Bloomingdale's Tysons Corner to host a charitable runway show.  Redskins players & wives strutted their stuff wearing the latest fall collections, available for purchase at Bloomingdale's.  Redskins players DeAngelo Hall, Ryan Kerrigan, Robert Griffin III, Colt McCoy, Darrel Young, Nick Sundberg, Jason Hatcher, Tress Way, and previous Skins players Chris Cooley and Derrick Dockery walked the runway with many other players and coaches in attendance.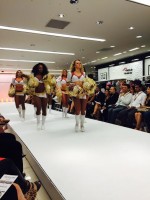 Redskins cheerleaders kicked off the event.
Robert Griffin III, Jason Hatcher
One of my favorite looks for FALL, a green jumpsuit worn by Anna Phillips.
Julie Cousins, Sondra Williams, Tanya Snyder, Nick Sundberg
Marcy Blacken, Christina Kotwica 
Chris Cooley, emcee of the show, Colt McCoy 
Natasha Hatcher, Yvette Munsy, Christral Golston, Tress Way
Style Favorites…DeAngelo Hall and wife Jada Hall
Romonda Jordan, Derrick Dockery, Ryan Kerrigan, finale moment with Darrel Young, Tanya Snyder & Ryan Kerrigan
Shop the looks at Bloomingdale's.  Support the Washington Redskins this 2015/16 football season & help raise funds for the Washington Redskins Charitable Foundation to support youth programs across the region.