Gentlemen, be casual and stylish while wearing this season's trendiest loungewear.  Comfort doesn't have to be frumpy.  Hot trends to try are animal prints, leather, zippers, studs, and cardigans or hoodies with an edge.  Pair these with denim or cotton lounging pants to be chic yet comfortable.  All of these style tops transition well to an evening or day out by adding a denim jacket, cotton jacket, or casual blazer and denim.  
Animal Print
This hot trend looks great with cotton lounging pants, Add a button down shirt or denim or leather jacket to up the stylish look when heading out for the day/evening.  Animal print can be bold or a neutral depending on what you wear or pair it with.  A black blazer with the Asos shirt or a navy or chocolate brown blazer or button down with the Topman shirt makes this trendy piece ultra-wearable.
Hooded Sweatshirts
Can be comfortable yet still chic by layering the colors.  The interior neckline in a contrasting color adds an element of style in this H&M sweatshirt.  Easy to wear with lounging pants, or with denim and chino's.
Cardigans-
Look trendy and chic when worn with a t-shirt or button down shirt.  Try a trendy new look of leather, animal print, or one with zippers and pockets.  Looks great lounging around the house or add a trendy pair of denim.
Embell
ished Sweatshirts-Studs, Metallics, and Leather
Embellished sweatshirts and sweaters is a hot trend.  Studs, metallic sheen, and leather make these loungewear looks uber trendy and transition from a day at home to a night on the town.
Asos Speckle Metallic Sweatshirt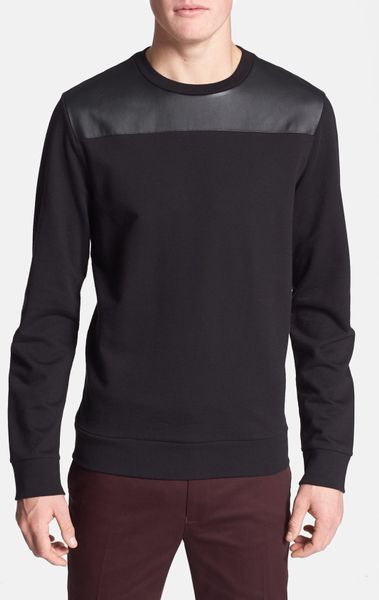 Here's to lounging in style,
Divine Style DC