From fit to style, kick back in this summer's hottest men's shorts trends. Length is key as is knowing what fabrics to wear and how to style your shorts to dress up this look to be trendy casual. Look stylish from dressy to casual, at the beach or an event in these men's shorts trends.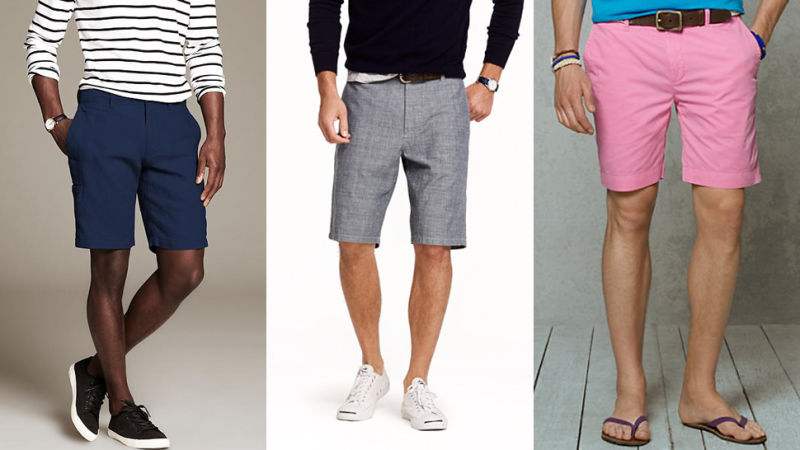 Five Types of Men's Shorts
Dressy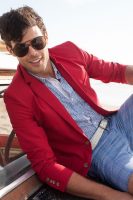 Woven textures, shorts with sheen, and luxe fabrics dress up this shorts style. Go sock-less with drivers, oxfords or loafers.
Casual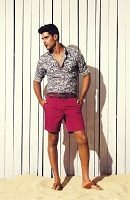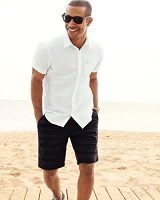 Casual shorts are laid back in fabric and style, perfect to wear for weekends or relaxing. Step up your style game in bold hues, such as turquoise, salmon, brick red, or green. Stripes, paisley, and plaid prints upgrade your look. Dress up these shorts with button down shirts, stylish graphic tee's or trendy polo/v neck shirts.
Shorts Suits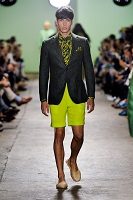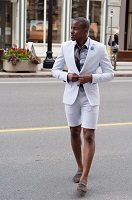 For the fashion-forward offices or evening events, a shorts suit is a stylish option. Go bold with colored shorts styled with neutral blazers, a head-to-toe bright colored suit, or stay more balanced and suave in lighter colors.
Swim/Surf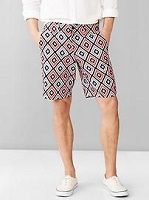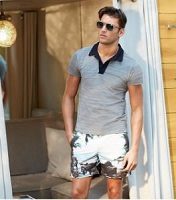 Men's swim trunks or board shorts vary in style and length. While short shorts are trendy, stick with what works best for your body type and swim activities.
Sporty Luxe/Athleisure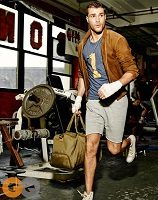 With the athleisure trend taking you from gym to weekend style, athletic shorts can be worn with a stylish v-neck t-shirt, a short sleeve button down or cuff a long sleeve button down shirt. Add slip on sneakers or boat shoes to complete your look.
Rules of Length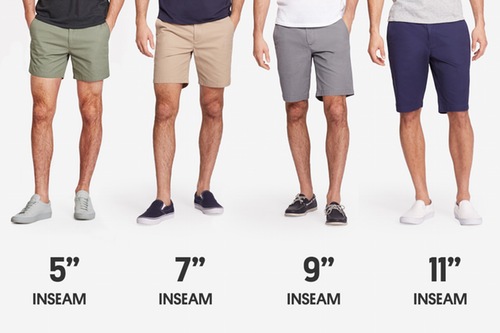 In the past few years, the low-water-mark length of a 15-inch-or-so inseam changed to knee-length (11 inches), then a knee-baring 9 inches, then to a quadriceps-exposing 7 inches and on to the newly fashionable thigh-flaunting 5 inches. While the length of your shorts should depend on your height and body type, with leaner builds being able to wear shorter shorts, 9 inch shorts are a standard length suitable for most men. 5 to 7 inches are considered "short shorts" but beware of wearing 11 inch shorts or longer (unless your height requires it) as shorts that go below your knee cap give a frumpier, dated style.
Styling Your Shorts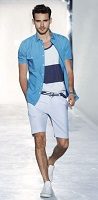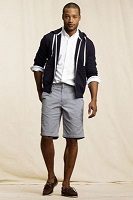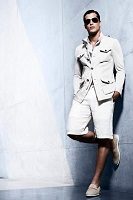 Layer Your Look
Add a blazer or field jacket
Go casual with flair in prints and colors.
Keep your feet stylish too for a head-to-toe look with Top 5 Men's Summer Shoes. Follow Divine Style on Instagram for the latest men's summer fashion trends.