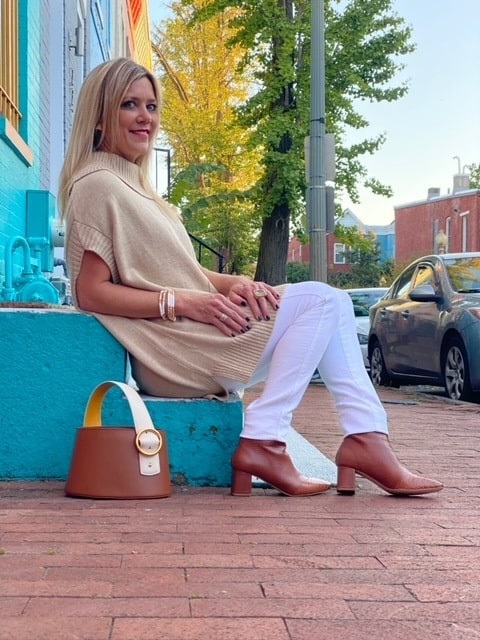 Make the Shift from Casual to Elevated Casual
Whether working from home or back at the office, this FALL SEASON is full of changes. From local travel in the U.S. to hosting at home, upgrade casualwear adding these fall essentials to get that elevated casual or casual, chic style. Adding fall accessories to slipping into fall's must-have boots and shoes to simple layering or clothing changes to give you a refreshed look for fall.
Ultimate Fall Accessories
Accessories are the simplest way to transition an outfit (casual or not) for the fall season. Draping a fall scarf, add a wool fedora hat, bold metallic or leather watches are just a few fall accessories that instantly take basic outfits up a notch. Bucket hat, statement watches, checked scarves and leather backpacks or carry-alls are must-haves for men. We love this, this, and this for men. Print scarves to knit or wool scarves to drape around your shoulders (with a touch of fringe too) layer overtop casual pieces to simple tops, blouses and dresses. Mini-bags or top handle bags in rich fall leather colors (camel, chocolate brown, cream or bone) give fall vibes to any outfit. Jewelry makes a big chain this season. Layer chunky chain necklaces with thinner styles or add a coin necklace for pizzazz. Chunky gold statement necklaces will be center stage and dress up even a basic t-shirt or top.
Fall Shoes
Nothing gives you a fresh new look for the fall season than slipping on this season's boots. Rich leather in shades of camel and mahogany are everywhere this season, while ivory and winter white boots are on trend for the ladies. Men, suede and leather Chelsea boots give casual looks of slim-fit tailored pants to smart, rolled-up denim an upgrade. Chunkier soles are ideal for winter weather and something sleeker and slimmer transitions well into fall. Lace-up boots give a polished, trendy vibe paired with denim, chino's or wool pants. We love this, this, and this for men. Chunky heel boots are comfortable yet give a stylish fall edge. The thickness of the heel determines how dressy or casual the style is. Square toe boots are everywhere this season, but if that's not your vibe, then go for a neutral boot in taupe, bone, ivory, or camel color. We love this, this, and this.
Upgraded Casual Clothes
Simple touches of adding a blazer, suede jacket or jean jacket over a shirt gives a casual outfit more depth from layering. Obviously the dressier or more stylish piece you layer completely changes an outfit. But its not just about layering. Finding thin knit sweaters in stripes, mélange or a unique color are a great smart casual option for men. Button-down shirts with a stretch fabric allows the softness and movement called "the flex" while still having that comfortable edge. We love this, this, and this shirt for men. Layering has never been easier for ladies with fall season's off-the-shoulder sweaters and sweat shirts. Draping is key from simple button down shirts or chambray options you can tie at the waist. Washable silk fabrics are easy to slip into with jeans or leggings. Add a chunky sole boot or print flats for an minimal yet polished outfit. We love this, this, and this.