Practical, comfortable, yet put together equals ideal airport style. Whether jet-setting to the islands, an excursion, or on work travel, looking polished at the airport and on the plane is essential. A put together look can often score you an upgraded seat on a flight, make the airline attendant be willing to bring you complimentary drinks or food, or enable you to have conversations on and off the plane with new people. Appearance goes a long way, so these foolproof tips for trendy airport style will take you away.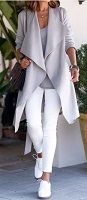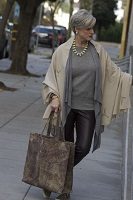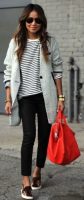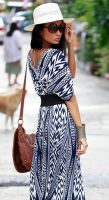 Ankle Length Pants or Dark Denim in light fabrics look pulled together yet comfortable. Navy, grays, and black are a basic back drop for any top/jacket combination. Dark denim looks sleek and stream-lined on and off the plane. Avoid wearing a belt which slows down the process at security and can be uncomfortable at the waist/hips while sitting on the flight.
A long light knit cardigan, in lightweight wool or cashmere, allows you to wrap yourself up while on the plane in case it gets cold, but looks pulled together.
A dressy t-shirt, cotton or chiffon top is the perfect layering piece. Wear bold colors or fun prints to dress up your pant style, avoiding silk and linen tops which excessively wrinkle.
Slip into comfortable flats with a bit of panache. Buckles, stitching, prints or d'orsay style make this type of shoe a more fun option. For summer travel, espadrilles and wedges let your feet be comfortable yet chic. Wear little sock liners on your feet -that you don't see- so you don't have to go barefoot through security.
An over-sized scarf pulls your look together, which can be used as a pillow or blanket during the flight, or a chic wrap or statement accessory with bikini's and dresses while on travel.
A chic tote bag is a traveling must. Carry your passport, wallet, camera, magazines, sunglasses and a small makeup bag with you. Bring a change of clothes, such as a sundress, one pair of shoes, a thin night shirt, clean underwear and a few simple jewelry pieces in case your luggage gets lost.
Jumpsuits and maxi skirts/dresses are a comfortable yet stylish option for travel, especially if heading to a warmer climate.
Check out Weekend Travel Essentails and follow Divine Style's Travel Pinterest Board for the hottest vacation destinations + what to wear.