Update your spring style gentlemen with these 7 spring wardrobe essentials. From spring's bold colored suits, to stylish white dress shoes and casual fashion sneakers, accessorize your look for spring with bright color bags and bead bracelets. Refresh your men's spring wardrobe essentials with these Men's Spring Must-Haves You Don't Already Own.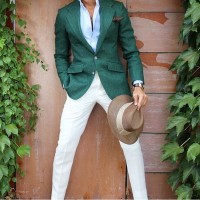 White Shoes are spring's neutral shoes. Wear with white pants for a sleek style or make the look pop against blue, gray, green colored pants. White suede shoes are sleek for summer or wear white animal skin or sleek leather with zippers, studs and laces for stylish spring flair.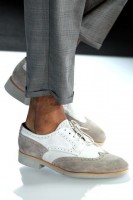 Be stylish and on trend wearing spring's Striped, Slim Fit Shirts. Wear as a layering piece or pair your stripe shirt with bold color pants to make your look pop.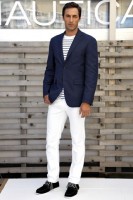 Be brazen & bold in this season's bold suit color, BLUE. Venture from navy and opt for a bolder saphire or cobalt blue. Look fresh and crisp styled with a striped shirt, paisley shirt, crisp white print shirt or play with spring's bright colors, such as pink and green.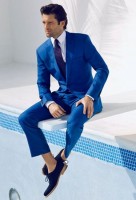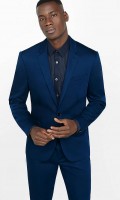 Stylize your spring men's look with glass or bead colored bracelets. These men's spring wardrobe essentials elevates your style game adding flair to your look. Layer various size & style bracelets with watches for panache.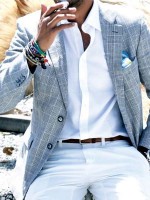 Bright color weekend or work bag take you on any spring/summer travels in style. From the office to a weekend getaway or a day trip, a bright color bag states I go anywhere in style.

Give a laid-back but on trend look in this Spring's stylish Fashion Sneakers. From weekend casual to sleek events and office attire, gray and white fashion sneakers are a spring neutral. Play with bold color fashion sneakers for a pop of spring style.


Mirrored Sunglasses set you apart from the crowd with a cool, on trend Men's Spring Wardrobe Essential. From office to boating or any spring event, opt for a black, silver, gunmetal gray or gold mirrored sunglasses.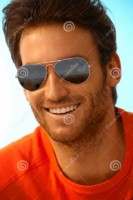 Check out men's spring jacket styles. Upgrade your men's stylin' summer shades and shoe combinations. Need to update your spring style and/or shop for new spring clothing? See Divine Style's men's spring styling services or Contact Us for details.