While temperatures soar, don't let your look fall astray. Look sizzling hot while keeping cool with these tips for stylish new looks to beat the heat. Loose garments keep you cool allowing air movement. Flowy sundresses are optimal in summer time. Surprisingly keeping your body covered prevents the sun from touching your skin, which keeps you cooler. Non-fitting maxi skirts, long dresses, and wide-leg pants give your outfit fluidity. It matters what you wear on your feet. Heat escapes through our head and feet so barely there sandals keep you cool. From strappy sandals to gladiators, wedges or chic flip flops stay stylish in the heat. Closed-toe shoes bring the heat so opt for mesh or key-hole styles which release the heat.
Outfit #1 Crop Top + Wide-Leg Pants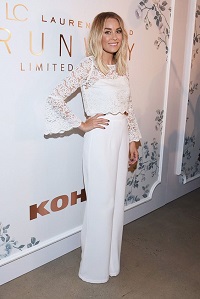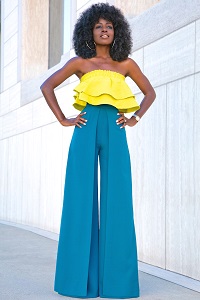 This outfit looks and feels cool when all in white.
Outfit #2 Cutout Dress/Top + Sandals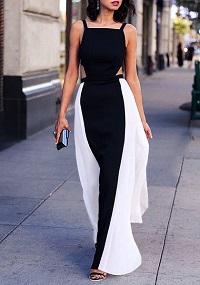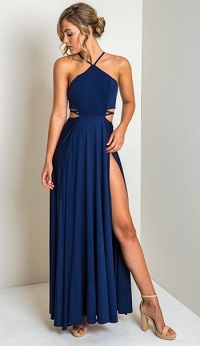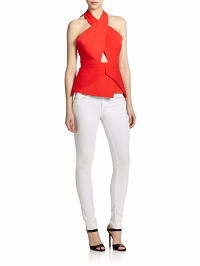 Dresses and tops with cut-outs at the sides and neckline are not only trendy and fun to wear with built-in ventilation.
Outfit #3 Cold Shoulder Top + Chic Shorts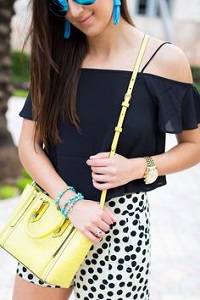 Cold shoulder tops give a breezy, lightweight look letting air move through your outfit. Dressy shorts typically are made of woven fabrics which are breathable and cooler. Avoid silk which wrinkles easily in the heat and maintains temperatures. Lace, chambray, tweeds, and metallic fabrics are trendy options for dressy shorts.
Outfit #4 T-Shirt Dress + Statement Necklace + Sandals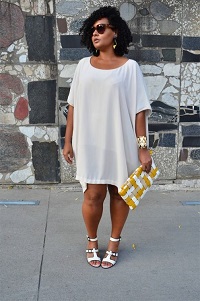 T-shirt dresses are a summer Must Have. Dress them up with fabulous jewelry and statement high heel sandals, or go casual cool with gladiator sandals, flip flops or espadrilles. A long necklace or fabulous sunglasses pull together your look. Cotton or cotton blend fabrics keep you cool and are wrinkle free, making you chic on the streets!
Shop these looks: