Dîner en Blanc started over 27 years ago in Paris, with diners attending an all-white dinner event at an undisclosed location. From white linens, beautiful white flowers with enchanted white lights…dinner commences, then sparklers light indicating dinner is complete & the dance floor is open. Dîner en Blanc was started in Paris buy François Pasquier, who invited a few friends to the Bois de Boulogne one day in June. To find each other in the park, they all wore white. The dinner was such a success that they decided the next year, each person would invite some other friends and the event grew organically into the 15,000+ dinner it is today.
This elegant affair has patrons donning the sleekest white attire. Think Parisian chic with white dinner gloves, chic white hats & fascinators, women's elegant white heels with men's dapper white shoes and dinner jackets. Sultry, modern, chic debonair attire. Ladies, don interesting design details and textures for a sleek, stylish look.
Gentlemen, the white ensemble is all about the accessories. White fedora hats, chic white belts, stylish shoes make your look sizzling. Texture or print shirts and jackets add flare to your look.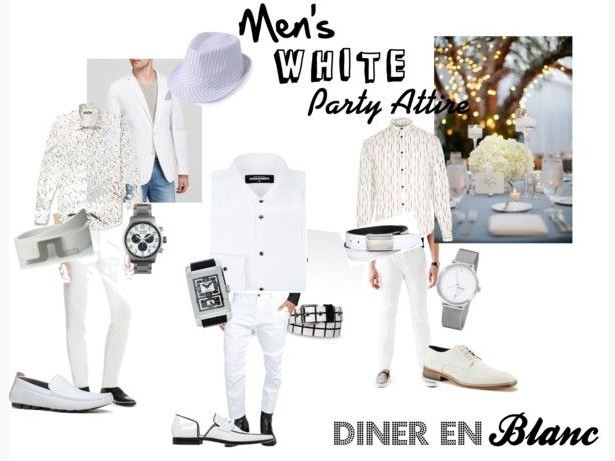 Shop the men's Dîner en Blanc looks.
Follow Divine Style on Instagram to see pictures of Dîner en Blanc Washington, DC 2015.