Designer denim has been a fashionista's MUST HAVE item, but how do you know if it worth it? Cheaper denim has a lower quality fabric, which will feel stiffer or rough against your skin and a lower stitch count, and lower distressing quality so it is more likely to tear with distressed portions not sitting at flattering parts of your body.  Designer denim pays attention to stitching, quality of fabric, and fit.  Designer denim pockets should flatter your bottom enhancing your booty and the fabric should be soft to your touch with higher-end rivets and buttons.  Designer denim holds it shape and value so you will wear the denim for years without having to replace and can re-sell or consign the denim if you tire of the style.  Opt for cheaper denim if trying a new trend or style or color that you rid of after a season if you tire of it.
Look for:
* Good Stretch.  A 98%/2% Lycra/Spandex Blend.
* Wash.  A darker wash is the most figure flattering.  The wash should flatter your leg line via the stitching and color.
* Stitching on the pockets.  Stitching should be present but not pronounced.
Styles to Own:  Keep these 3 staple denims in your closet for your go-to looks.
Flare Jeans–  The fit can be flattering and easy to wear for most figures.  Balance the flare with a a longer top and cropped jacket to add dimension.  Heeled boots or sandals give a lean leg line.
Skinny Jeans- Perfect to wear with tunic tops, and flowy silk/chiffon blouses.  From riding boots to animal print flats and gladiator sandals style, these jeans can be worn for a comfortable daytime look to evening glam.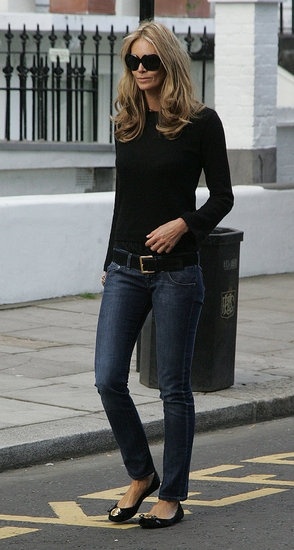 Straight Leg Denim- This style can be worn to the office & out on the town.  It is universally flattering.
Need to purchase new denim but need style tips on what to buy & how to wear it?  Check out Divine Style's women's personal styling services HERE.