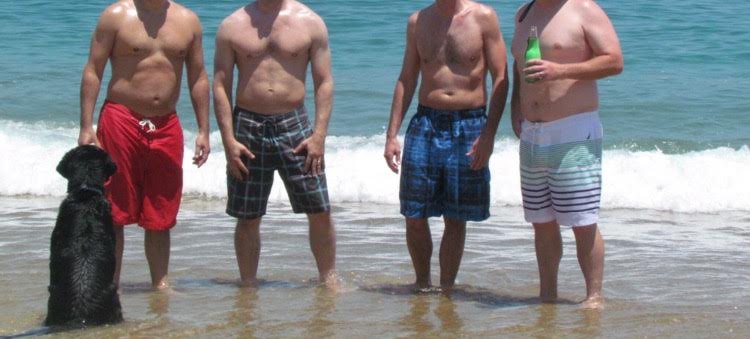 Summer season is here which means beach bound with board shorts & bathing suits.  Whether you are on a boat, biking, walking the shore, or laying out on the beach, gentlemen look fit and trendy wearing the right style bathing suits.  Draw string waist bands add pooch to your belly by drawing in fabric and the tie waist band accentuates the stomach's largest part.  Instead wear flat front shorts with or without a tie at the waist.  This gives a slimmer fit in the stomach area.
Striped Bathing Suits can be trendy or dated depending on the style.  Wear suits with multiple stripes and stripes of various sizes and colors for a trendy look.  Avoid the larger solid stripe and evenly spaced stripes as these styles are passe.
Do This, Not That 
Matching T-shirt and Shorts where the print t-shirt matches the print of the shorts is dated.  Instead intermix prints and patterns in complimentary colors.
Do This, Not That 
Hawaiian Prints are stylish worn in a trendy way.  Wear a bolder print or muted pastel tones with at least 3 colors in the print.  Two-tone prints give a dated style.  Pair with a bright color coordinating print such as plaid instead of wearing with bland solids in navy, khaki, etc.  Bamboo print is a hot trend to try.
Do This, Not That 
Ready to update your beach style?  For more tips on vacation/resort wear for men check out Resort Wear…From Beach to Brunch.  Divine Style offers personal shopping & styling services for men to give you the stylish beach or summer look.