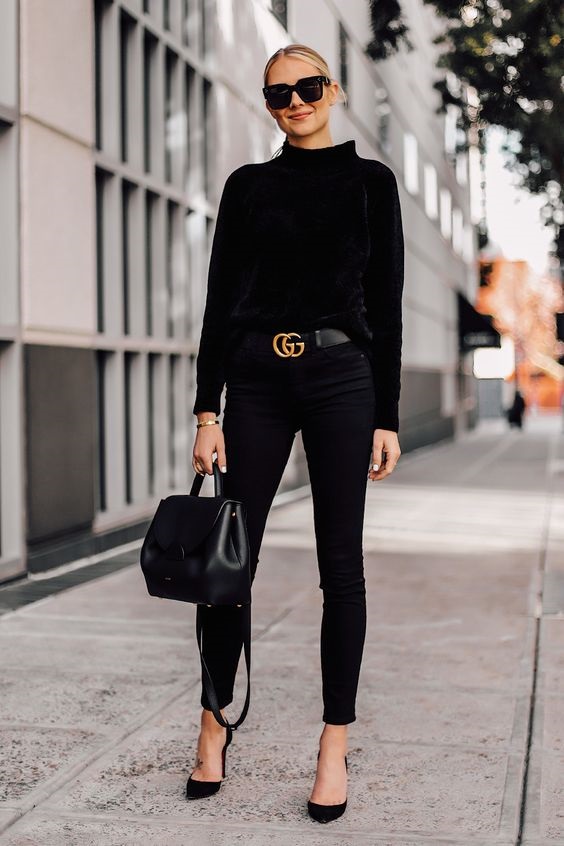 How to Create a Year-Round Capsule Wardrobe with 10 Staples
.
What are the key pieces you should have in your wardrobe? This question we are constantly asked as a personal stylist. These essential pieces are perfect to build a wardrobe around or to streamline what you have. These are classic, timeless pieces to reach for every season, every year. These are the staples we feel that every woman should have to build a capsule collection wardrobe.
YEAR-ROUND CAPSULE WARDROBE STAPLES
1. Dark Skinny Jeans
2. Sleeveless Sweater
3. Silk Blouse
4. Leather Jacket
5. Pointed Toe Flats
6. Tailored Black Pant
7. Ankle Boots
8. Classic Handbag
9. Tailored Blazer
10. Medium Width Belt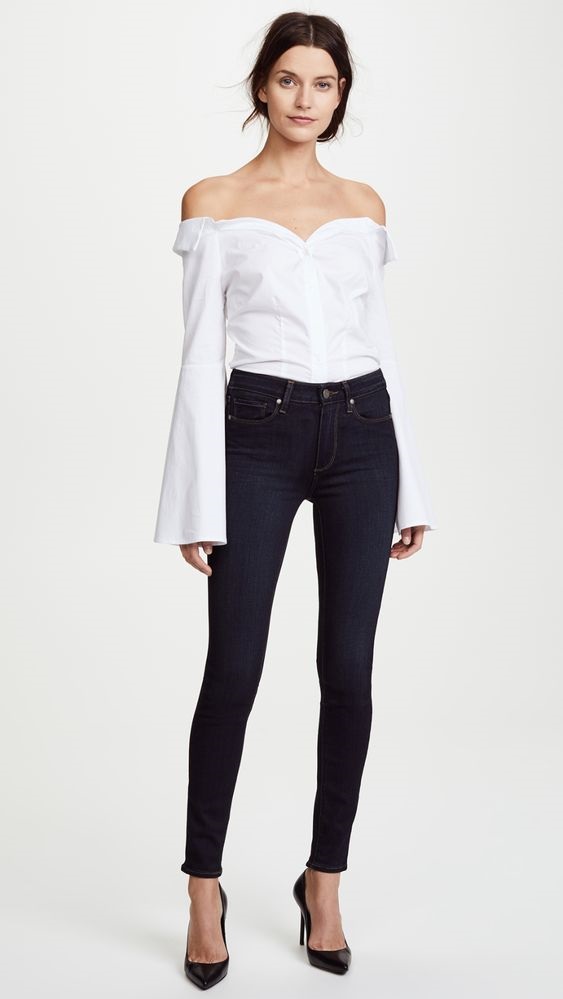 1. Dark Skinny Jeans
Denim trends and styles come and go but dark skinny jeans are a classic, especially in the mid to high rise. Dark skinny denim are a must-have no matter your age or size. They easily dress up or down with the dark color elongating your legs. Pair it with a blazer and blouse with heels for a chic day to night look or a sweater and loafers/flats for cozy yet stylish vibe.
Shop skinny jeans here, here, and here. Our personal favorites are Frame Le-High Skinny and Agolde Mid Rise.
2. Sleeveless Sweater
A sleeveless sweater in bold color or rich neutrals is the perfect layering piece to easily pair with jeans, leather leggings or pants. This is a go-to piece to wear when traveling to easily layer a jacket on the plane then look chic once you arrive.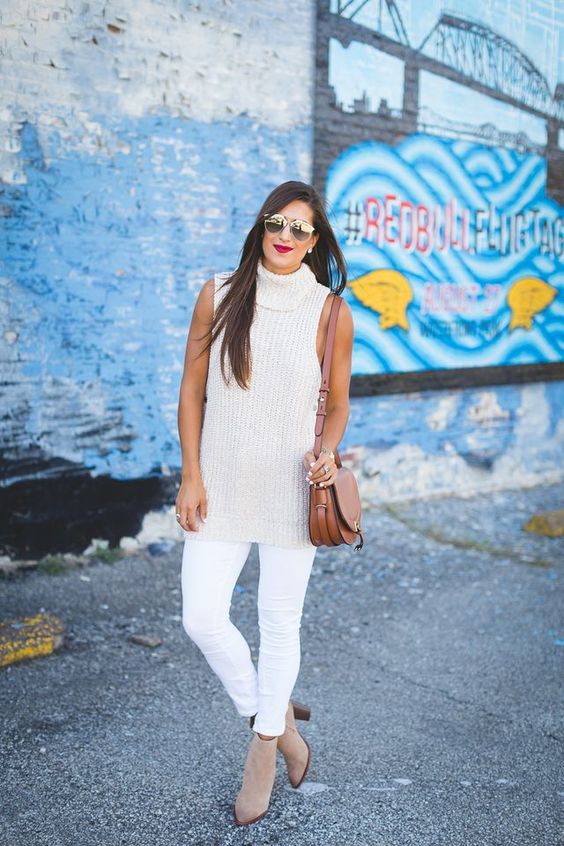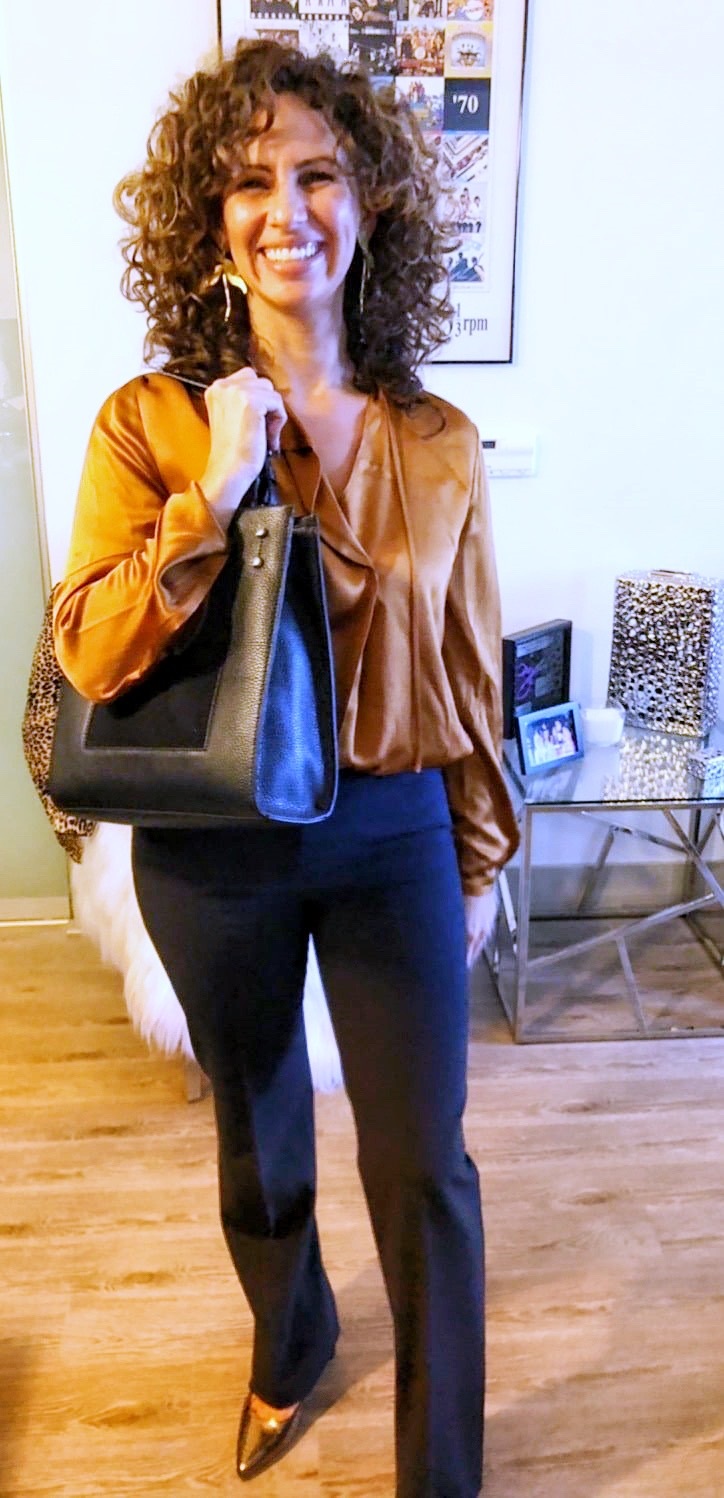 3. Silk Blouse
Dress this up or down, a silk blouse is a go-to piece to wear. Style with a leather skirt for a modern look or go monochromatic in a silk blouse with pants or skirt in the same color family. Choose a silk blouse in a classic neutral of white or black or in a color that you love.
We love a silk popover blouse, such as the one shown by VINCE, as it creates a smooth silhouette without buttons and is ideal for a woman with a larger chest.
4. Leather Jacket
These days a leather jacket is the perfect layering piece for a night on the town to a business meeting. We love wearing different style leather jackets, from a peplum look to a blazer style to a cropped moto jacket. Style this with jeans, a tee and booties or layer over a dress to modernize your look.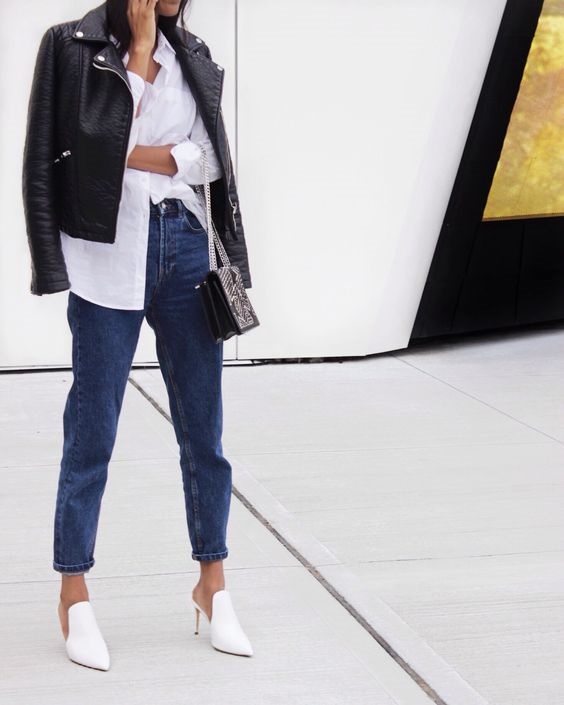 6. Tailored Black Pant
Whether working in an office or a great option for a night on the town, black tailored pants can be in your weekly outfit rotation. They look stylish with a chunky knit sweater, a chic chiffon blouse or silk tank top in warmer months.
When it comes to what pair of black pants to put in your capsule collection it really depends on your body type. A tailored pant that skims your legs is a great start since it's a classic. If you prefer something more fashion-forward, add a black tuxedo pant into your capsule wardrobe. An ankle-length pant is ideal so you can wear any type of shoes.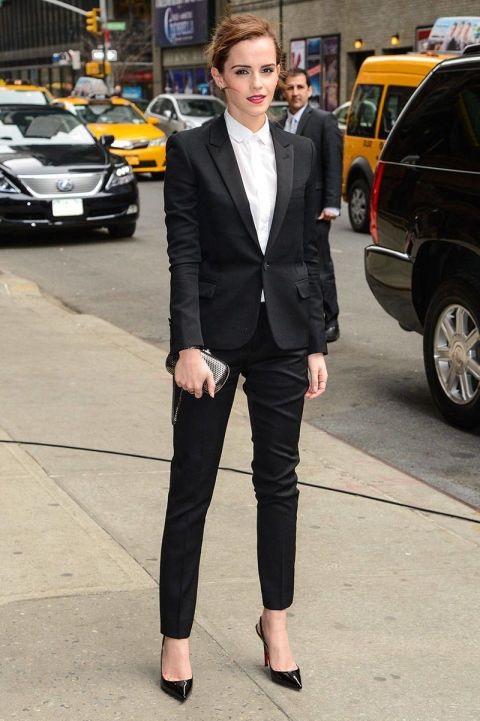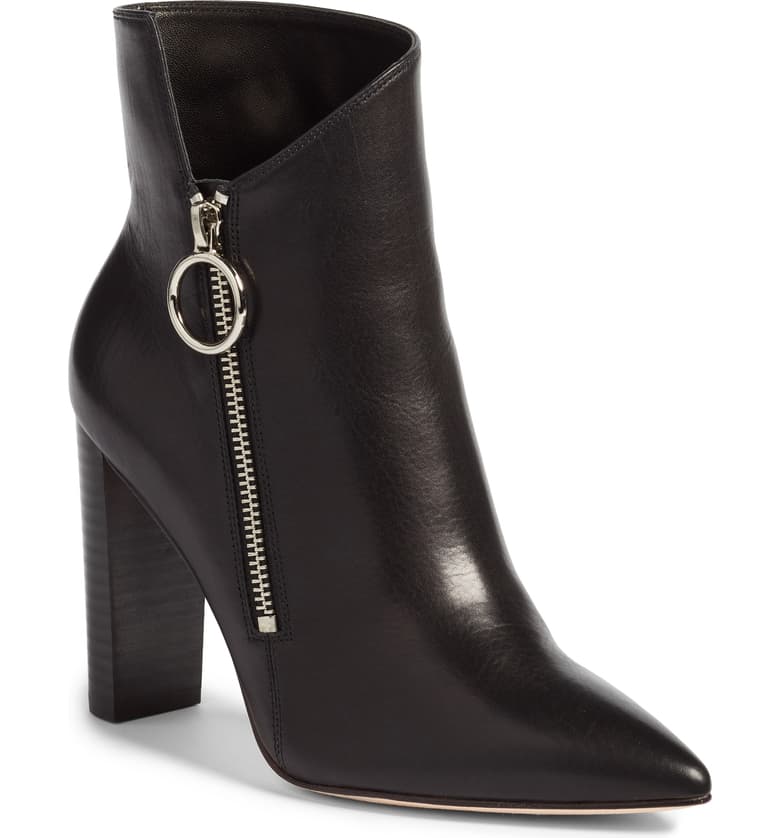 7. Ankle Boots
Slip into a pair of ankle boots and slide into style. Either flat or with heels, ankle boots give a modern edge to any outfit. A block heel is a style we love and wear because it adds height which elongates your leg making you look skinny! But choose a pair of ankle boots in a color and fabric that works well with your wardrobe. Black leather is an easy staple to have in a capsule wardrobe.
8. Classic Handbag
If you ask which bag we style in outfits over and over again I wouldn't even have to bat an eye to answer a classic handbag. Though these differ woman to woman, your classic handbag should be something you can wear with any outfit, is truly your go-to bag, and has either a color, element of design, or style that you really love. My personal favorite classic handbag is my black Ted Baker satchel with gold studs. Still a statement bag that I get questions about (and its a few years old!).
Shop designer bags here, here, and here.
Shop reasonably priced bags here and here.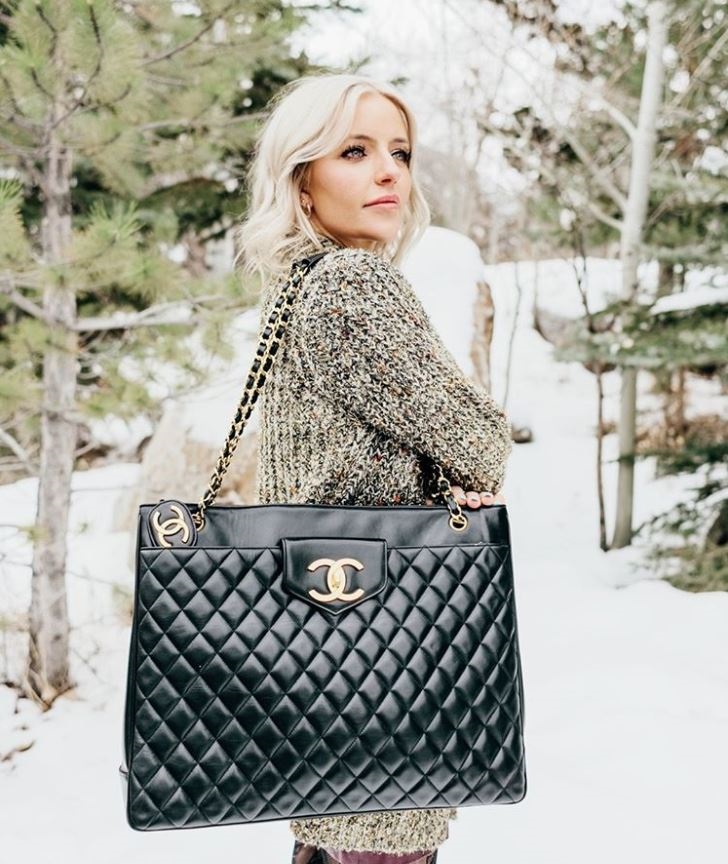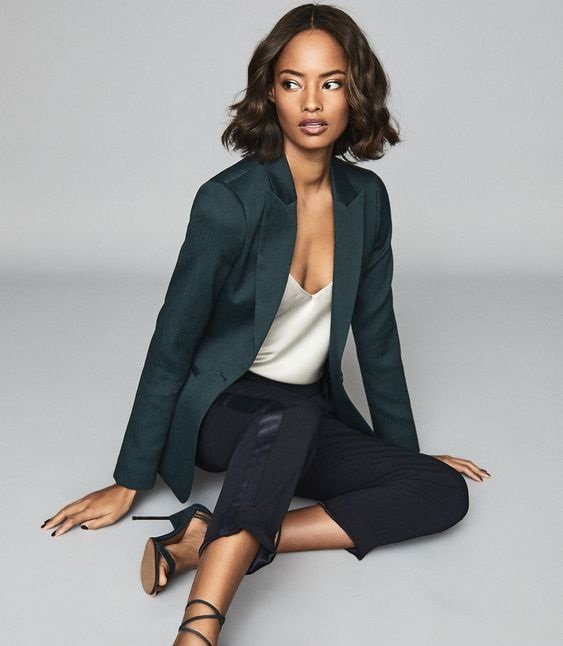 9. Tailored Blazer
As much as we love boyfriend blazers and printed jackets, if we choose only one jacket to wear year-round, it would be a tailored black blazer. It is a classic piece to wear season to season from the office to weekend. We love a tailored blazer with dark denim and a tee for a casual look or with a silk blouse for more polished style. Fit is key to have a great looking blazer so this is one to have tailored or to splurge on.
This list of wardrobe staples should get you started on creating a capsule wardrobe. These are go-to pieces we wear day in and day out and recommend to our styling clients to created endless outfits. Let us know in the comments if you have other pieces you recommend or have tried in your capsule wardrobe. Ready to update your wardrobe and streamline what you shop for? Download Wardrobe Essentials Checklist
WANT A SUMMER CAPSULE WARDROBE?