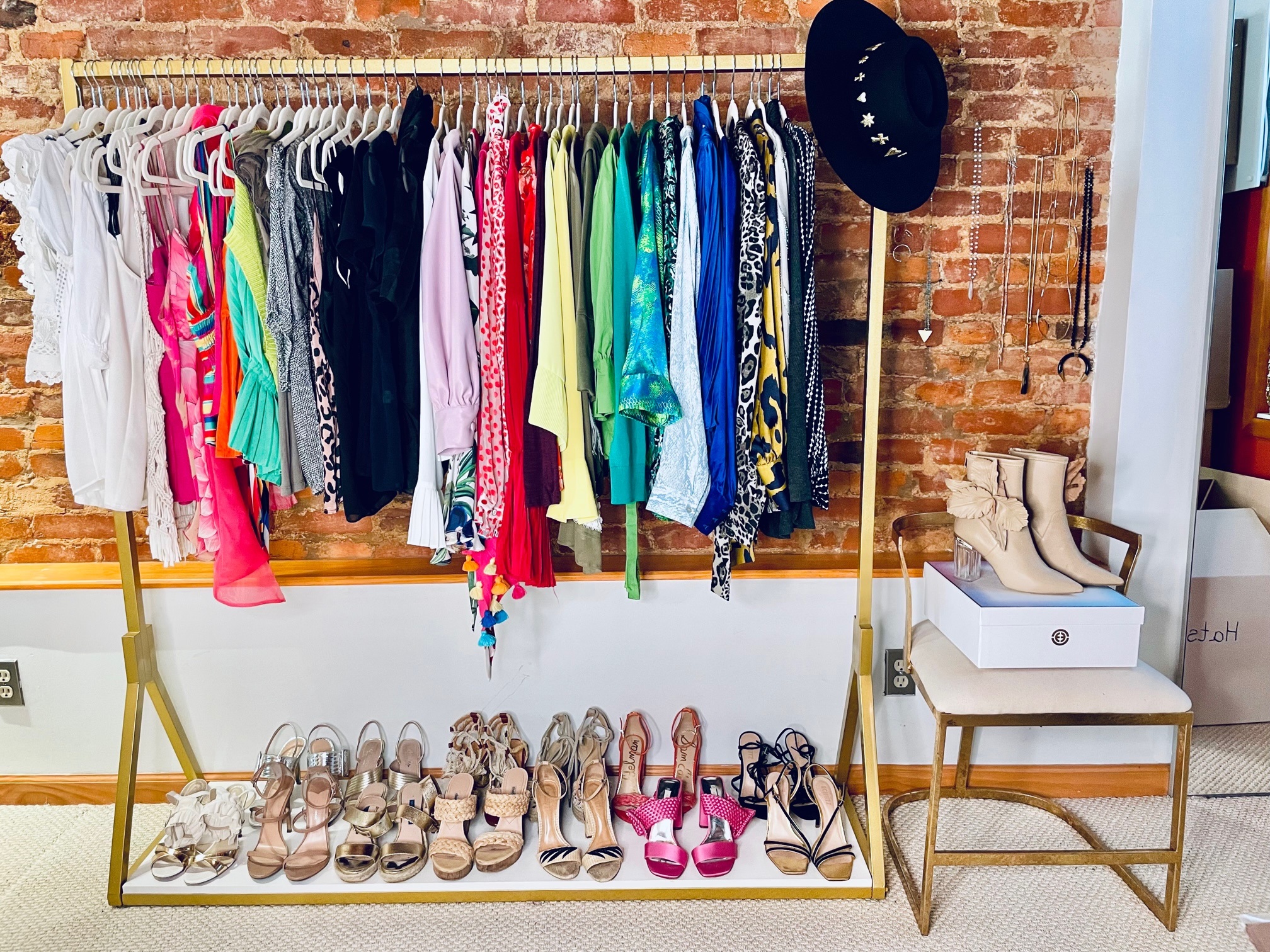 Is your wardrobe intentional? Do the clothes, shoes and accessories work together so you can wear them in multiple ways? An "Intentional Wardrobe" is one that works for you + your lifestyle. It is clothing, shoes and accessories that you choose to buy because they are in colors you can pair together + cuts or styles that you can interchange, and fit your personal style. How many times have you bought a shirt, suit, or dress for an event or last minute meeting, vacation, etc. that you want to look your best for?
An intentional wardrobe is not a capsule wardrobe which is significantly more limited in colors and quantity of pieces, but having an intentional wardrobe makes it easier when getting dressed, keeps you on track when shopping and streamlines your closet. These 4 tips help you create an intentional wardrobe.
1. Wear Brands You Love
Wearing brands or designers you love keeps your wardrobe intentional with the consistent type of style each designer creates. This is not to say only wear one brand, but sticking to the style of any designer keeps your look consistent which makes things easier to wear. For example, Ralph Lauren is known for their classic style so pieces you own or add to your wardrobe will stick with the classic style. Finding your go-to brands or designers is key to knowing what works well for your body type and personal style.
2. Dress for your Body Shape
Knowing what cuts, fit and style work well for your body keeps a streamlined look throughout your wardrobe. For guys knowing you like a tailored, European fit pant or an athletic fit shirt which accommodates your chest and shoulders. Ladies have a dress shape or neckline they know looks great on them as it highlights your features or pants with the ideal fit that make your butt look great. Your wardrobe stays intentional when you shop for and wear styles or cuts of clothes that consistently work well for your body type and personal style.
3. Stick to a Color Palette
Everyone has a color or two that you get rave compliments when you wear it. Keep your wardrobe to a few colors that you look great wearing and intermix together in multiple combinations. Add in a light neutral color (one or more) plus a darker neutral gives you tons of options for pairing together. Here's an example of a client I work with and where she struggles with color. This styling client we've worked with and taught about wearing her ideal colors. But her wardrobe is filled with tons of bright colors, super bold prints and softer cool colors which are her ideal. The problem is when she walks in her closet it looks overwhelming with such a wide variety. She does not know where to even begin putting together an outfit. We just did some shopping for her and during her personal fitting coached her with narrowing down her colors to those that are her ideal colors (soft, cool). We are keeping the fun, bright bold colors aside in a separate closet that she can wear for nights out or vacations but she doesn't get overwhelmed with too many colors in her closet that don't work well together. It is ideal to have your closet filled with multiple colors that look good on you to give you variety but that you know how to wear and layer together in outfits. This strategy is great for a guy who doesn't want to have to over-think when getting dressed for work or to go out.
*Learn what your ideal colors are and how to wear them as a part of Divine Style's in-home styling service (virtual or in person).
4. Choose Pieces that Reflect Your Personal Style
Collecting pieces or adding pieces as you shop that match your personal style keeps your wardrobe intentionally filled with things that suit you and you will feel good wearing. Knowing what your personal style is and how to dress for it is key. Go through your closet and edit out (aka purge) pieces you bought for one off occasions that aren't really you. If you are sporty casual guys, then that closet filled with suits may need to go. Or if you are classic, feminine then the leather leggings everyone is wearing don't work for you. Hone in on your personal style and know what works best for you= intentional wardrobe.
*Want to learn what your personal style is and how to dress for it? Our Define Your Personal Style service gives you a style roadmap teaching you about your personal style.
If you are ready to take the plunge- improving your personal style and creating your intentional wardrobe...we can do just that. Divine Style will customize our styling services to help you be intentional in what you wear, learn about your personal style, and shop smarter. CONTACT US to get started.