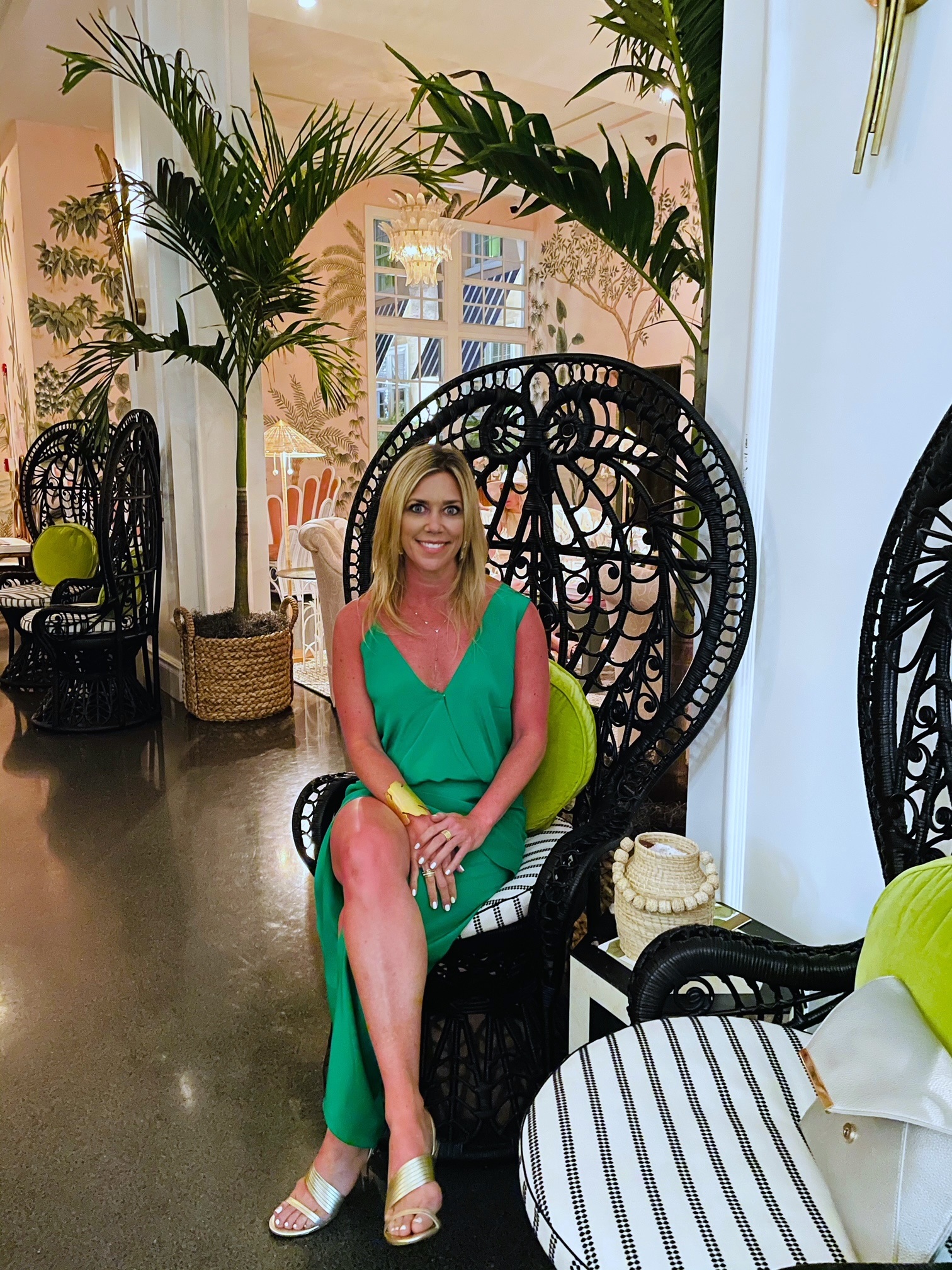 ---
Look confident and stylish while traveling with these wardrobe outfit concepts. From stylish vacations to work travel, dressing your best eases you into vacation mode in the best way. Europeans are known for being well-dressed travelers while Americans tend to dress overly casual (is it even considered casual???) in sweatpants and leggings. Instead simple, effortless outfits to make your travel be smooth and stylish no matter how you vacation.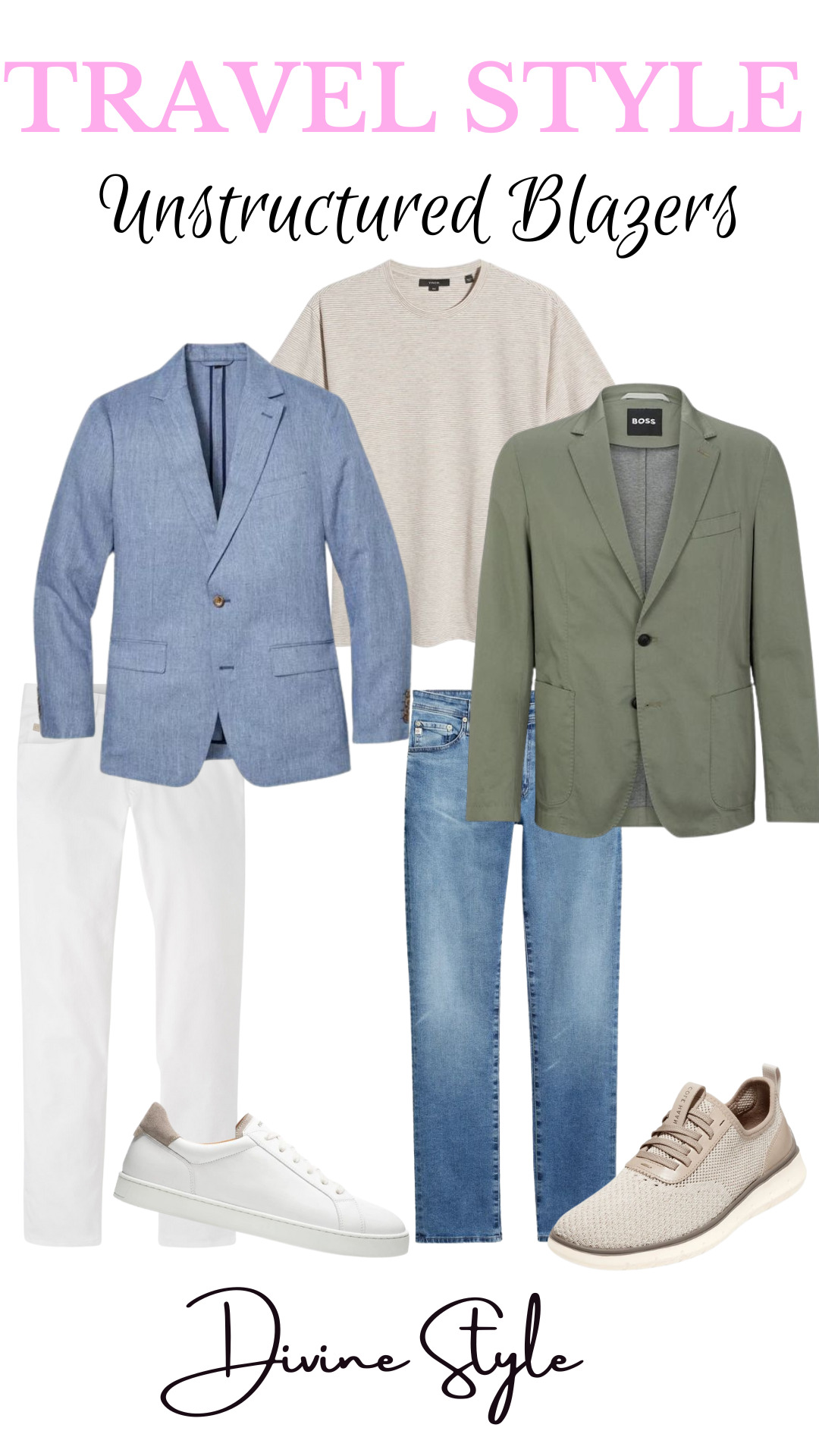 Relaxed Blazer
Nothing looks more polished than a blazer while traveling. A relaxed blazer or knit blazer for men looks put together but is super comfortable to wear. Imagine you are wearing a sweatshirt with a tailored feel. Love this look for ladies with a simple blazer, dressy tee and denim. You can do over-sized blazers if you want roominess. Pair with a leather tote bag and wedge sandals and layer light simple jewelry to look put together yet won't disturb you while traveling.
---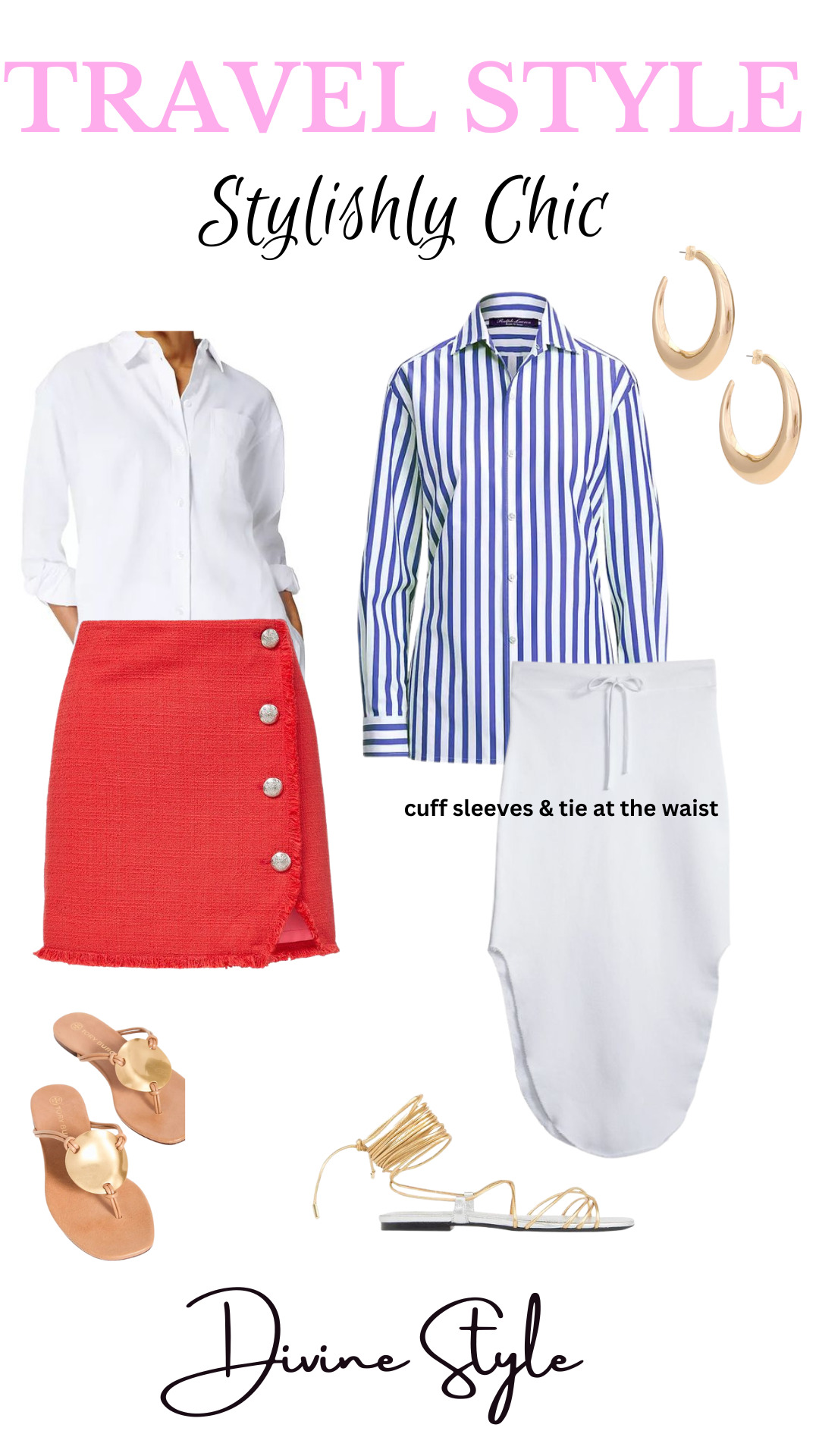 Stylishly Chic
This woman is already dressed for the vacation before it begins. She skips out on oversize sweats and leggings instead opting for a comfortable vacation look so she can hit the scene the second the flight lands without many touch-ups. Chic blouses and tops pair well with skirts and elevated sandals. Simple jewelry accents pair well with statement sunglasses. For guys simple shorts or 5 pocket-pants with a short sleeve button up and you are ready. Viola!
---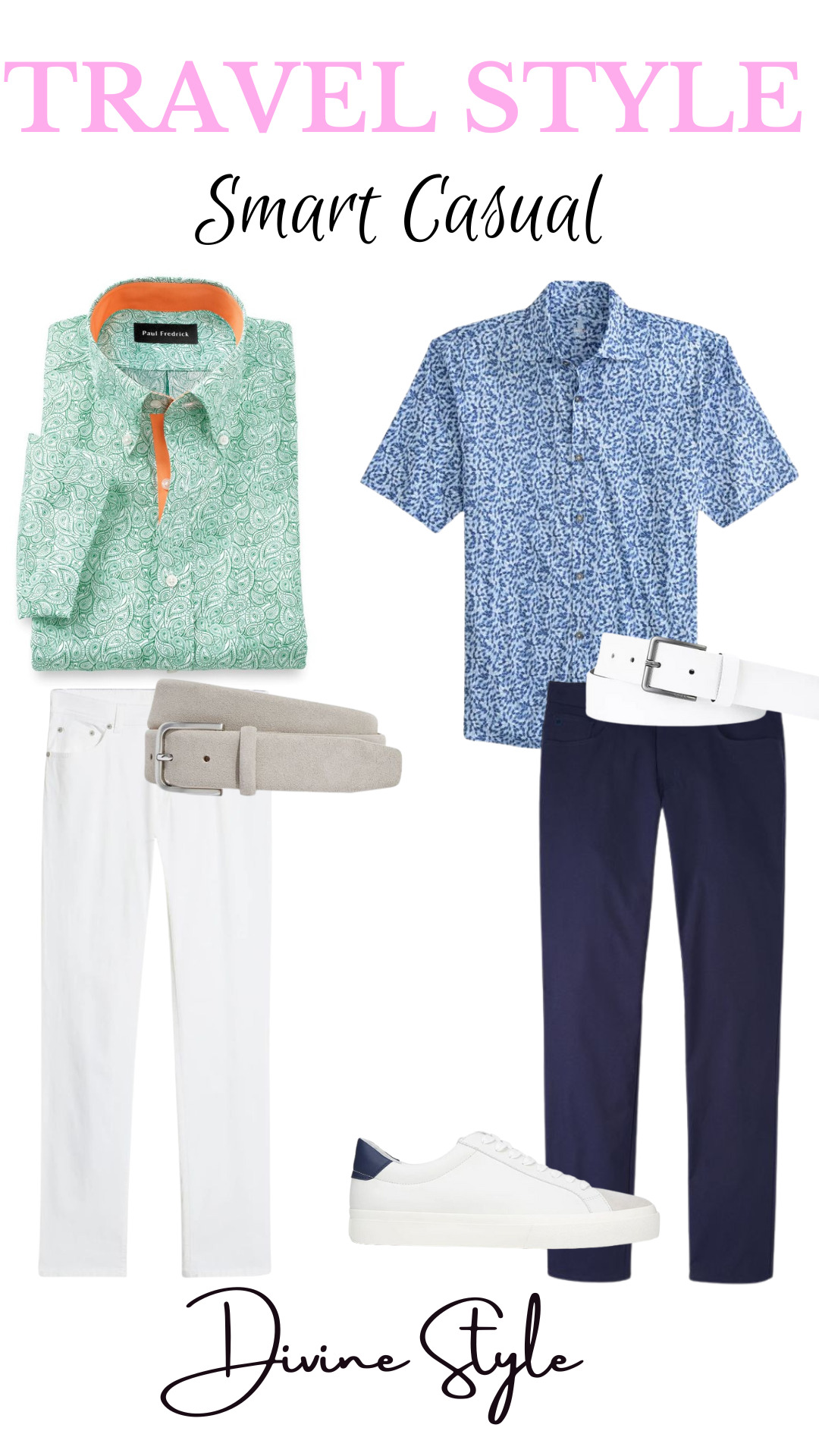 Smart Casual
5- pocket pants in an array of summer colors such as blue, green, light gray, or Nantucket red give a smart, casual vibe paired with a print casual button-up shirt. Cuff the sleeves to three-quarter length. Wear the shirt untucked for a relaxed, comfortable style or tuck it in adding a colorful woven belt. This outfit looks great with fashion sneakers in suede or leather with white being a basic neutral you can wear through out your trip or choose a mesh sneaker or driver for a comfortable, polished look.
---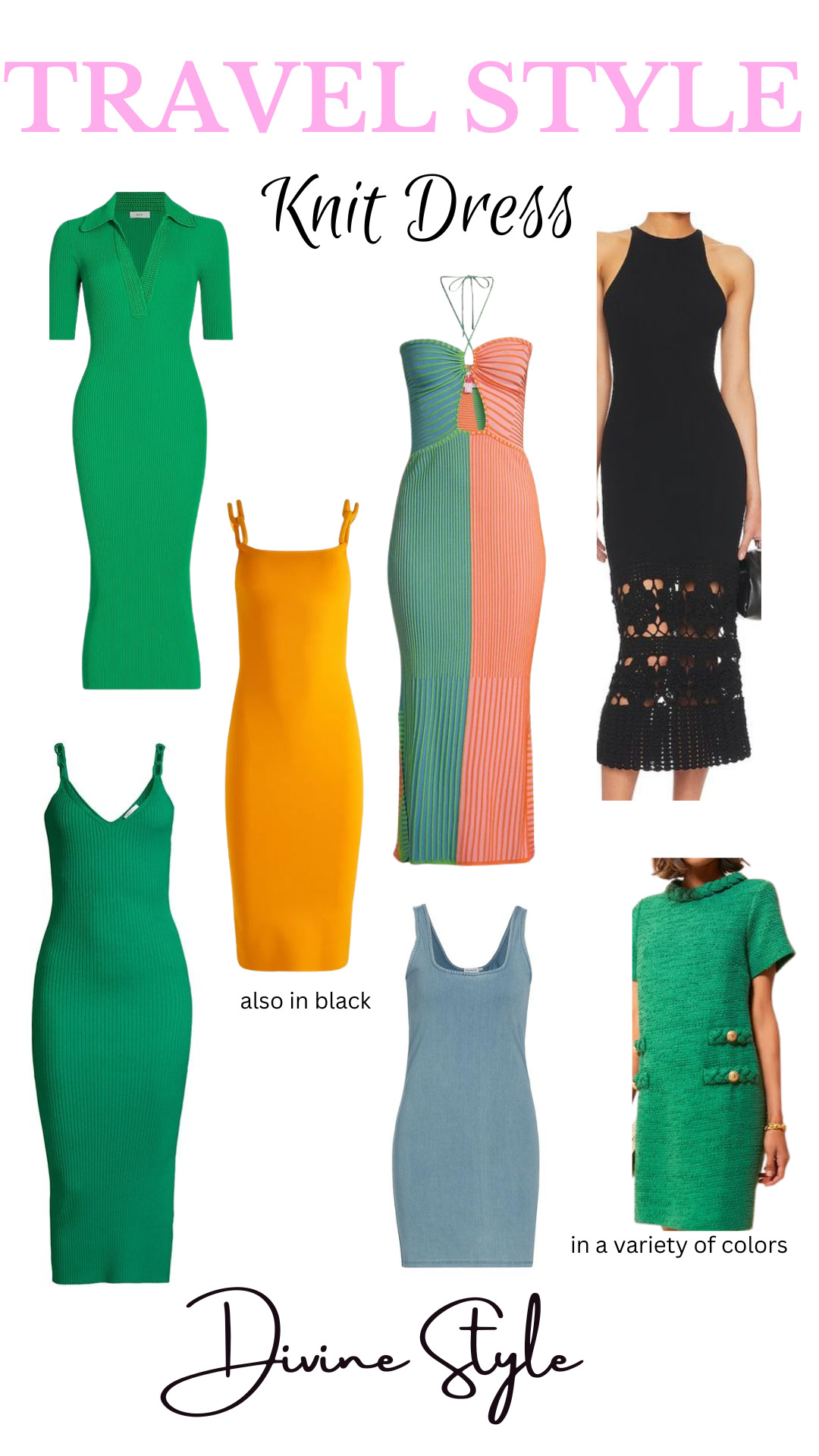 Knit Dresses
Effortlessly easy to wear, knit dresses feel like a cozy, knit blanket yet looks chic and put together. Midi knit dresses are a great length to show a little bit of skin and dress up or down. Slip on with sandals or wedges and be ready for effortless, easy summer travel.
---