Getting dressed in the morning or heading out for an event or night on the town, accessorizing your look is key. But keeping your jewelry organized is the challenging part. Necklaces get tangled. You cannot find the matching earring or backing and bracelets intertwine.
Whether you have a styling area or a small closet/space for jewelry, displaying your pieces and organizing your jewelry in a way keeps you accessorizing in style and not wearing pieces on repeat.
Drawers are a god-send for jewelry if you have the space. Whether in a dresser, a vanity table, or center dressing island, utilizing or creating custom drawers and pull-outs utilizes your space best. You can DIY your own vanity dressing island with cabinets and shelves or buy ready made pieces from places such as Wayfair.com.
Unique jewelry stands and holders not only act as display art and design pieces but allow your jewelry pieces to be showcased with modern flair.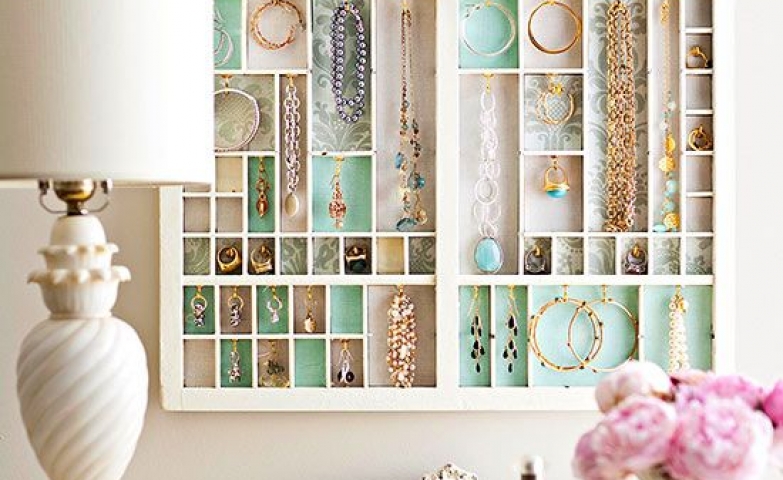 DIY jewelry holders are a great option to tie in your personal decor with your jewelry pieces. Try a decorative or ornate picture frame then add hooks for necklaces, earrings, bracelets. The more you interchange the variety of pieces and add decorative things, the more original and unique it will appear.
Twigs and branches are natural decorative elements that look great when painted and are perfect to hang necklaces, bracelets or earrings.
Statement earrings to dainty drops and studs can get easily tangled or lost if not stored or displayed properly. Decorative pieces such as steel poles or rods, to wood, wires, or mesh panel boards allow you to easily adjust the sizing or spacing based on your earrings.
Decorative trays can be used for rings or earrings and I love doing this to put out the pieces you will wear that evening or the next day. A mirrored tray lets you highlight the jewelry and place a necklace, cuff, cocktail rings, and earrings in a decorative manner.
Shop jewelry organizers: