Whether keeping warm or looking stylish is your goal, scarves are men's must have accessory. From a business meeting to a casual, hip outing style your scarf in new ways to step up your men's style game. This easy accessory is a simple addition that goes a long way adding flair to any look.
The Drape…this style scarf is an accent piece to your outfit. Hanging loose around your neck and draping open down the sides lets the scarf be a showcase piece. Look for bold stripes and prints to play off the colors of your shirt, blazer, etc. Stripes are more serious and sleek for the office or evening while prints such as paisley are a bolder fun style.
The Parisian, French or European Knot….requires a longer scarf unless you're using a thinner fabric such as silk. Bulky scarves aren't ideal as the end knot appears too large. Worn over a sweater or underneath or on top of the blazer/jacket neckline…this style is uber trendy.
The Wraparound…with a casual cool elegance this style looks trendy while keeping you warm.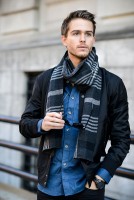 Ascot…this overhand knotted scarf gives a stylish laid-back vibe from a casual look to suit style.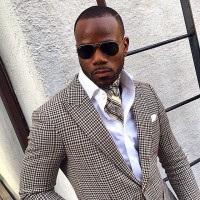 Infinity Scarves…give a sumptuous vibe while keeping you warm. Style a chunky knit or cashmere/wool print scarf to add flair to your outfit.
For the latest men's fashion and style looks, follow Divine Style on Instagram. Read about men's fall/winter accessories HERE.