Surprise them with a look that turns heads…
At the Virginia Gold Cup and Kentucky Derby races fashion is a focal point- not just for women, but men too. These fashion trends are a few trends and style guidelines make your look stand out and surprise the ladies with impeccable style.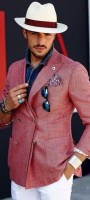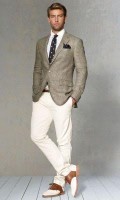 Colored Blazers and Prints
Style a colored blazer with a patterned button down shirt in complimentary colors. Pick a patterned shirt with undertones of the bold color from the blazer. Add a print pocket square , varying subtle pattern or a solid color. When selecting a shirt and blazer, bright vivid colors look best paired with lighter neutrals while lighter color sport coats pop with bold stripes and prints.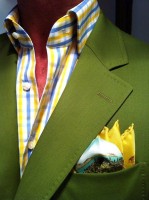 If you prefer neutral blazers, add color with bright pants, ties, or shoes. Pair a navy or tan blazer with a bright pant.
Colored Pants
It's spring and nothing says spring like bright bold colors. Kick off the horse race season in stylish colored trousers. When wearing a bright pant your color choice of shoes should compliment the pants or try a spring neutral such as a gray/white/blue oxford.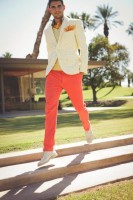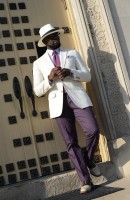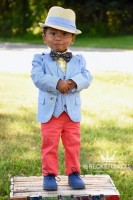 If bright blazers and pants aren't for you… Accessorize
When attending the races you really want to incorporate at least one splash of color and if the bigger pieces in your ensemble aren't where you want to do this, try in the accessories, such as your shoes. Colored loafers or drivers make a stylish splash at the horse races. Try pops of color in ties, colored brims on hats, and pocket squares. It's all in the details! Don't forget your watch. Want to try something new- a rose gold watch would be a bold choice (don't worry, this color isn't just for the ladies). Stylish sunglasses are a must have. Try aviators for a fresh but classic look, clubmaster's for a little hipster-y feel, or wayfarer's for that original look. RayBans are always an easy find for stylish sunnies.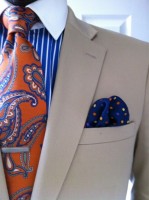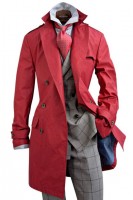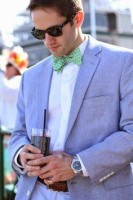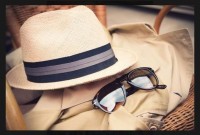 Shop Men's Horse Race Attire:

For more men's spring outfit ideas, follow Divine Style on Instagram. Check out Men's Spring Wardrobe Essentials to keep your style on point. What will be in your men's outfit for Gold Cup & the Kentucky Derby?
*Blog post written by Megan Marine.