Belt styles and colors set apart your look from the office to casual wear.  The buckle and the strap are the two areas to be creative and add some flare.  When you wear the belt for a formal occasion, it should coordinate with your shoes and coloring/style of your suit with a simpler cleaner look.  A more robust buckle, color, and thickness of the strap is better for casual and evening wear.
An accent piece is a low-key statement that complements the rest of your outfit, contributing to a coordinated look.

A centerpiece, on the other hand, is there to demand attention " it invites comment.
Below the sweater with a trendy statement belt…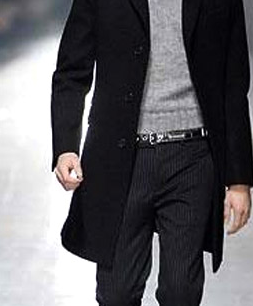 All about the buckle…
Print/Texture Belt Styles…
Shop Men's Belts:
Rectangular Buckles…
Statement Buckles…
Giuseppe Zanotti / Giuseppe Zanotti
It's all about the strap…
Giuseppe Zanotti / Armani Exchange / Nike
 Here's to look SIZZLING from head to toe!
XOXO,