Print coats, cozy capes, vibrant colors and soft pastels, and this season's luscious long coats wrap you up in style. Don't let the coat overwhelm you and your look. It should be warm as a statement piece that compliments your outfit. Catch someone's eye with these stylish looks for wearing a winter jacket.
Play with color and design details to have your coat make a statement. Wear a bold style paired with neutrals or play with prints underneath.
If you must wear BLACK…be bold with the design.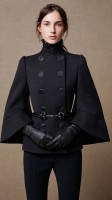 Cozy capes look chic styled with a dress or skirt and tights, or layered with a print/striped top and jeans for a casual, cool vibe.
An over-sized coat can look sumptuous depending on how it is styled. While the coat is longer and somewhat drapey, the outfit should be slimming underneath to look cozy while giving you shape.
For more winter style inspiration and looks, follow Divine Style on Instagram. Ready to upgrade your winter jackets or over-all look, check out Divine Style's women's styling services HERE.