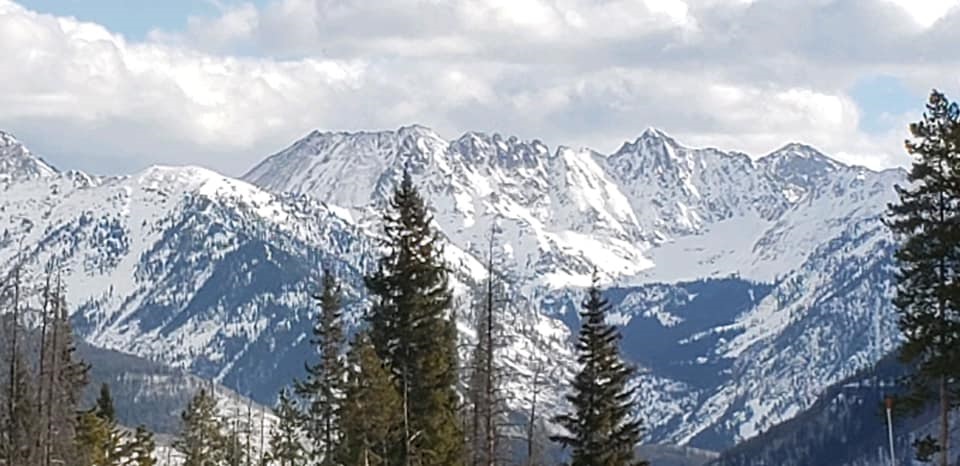 A Style Guide for Vail Colorado
.
.
Heading to Vail for a weekend ski getaway, girls trips or week of skiing, mountain adventures and good dining means you have to pack your bags smart to look your best in what you wear. A small overnight bag won't work unless you live local and are not bringing ski gear. Plan for a large suitcase (hard shell is ideal) to carry sweaters, jackets, boots, and ski gear if you ski. If not, more room for outfits and shopping!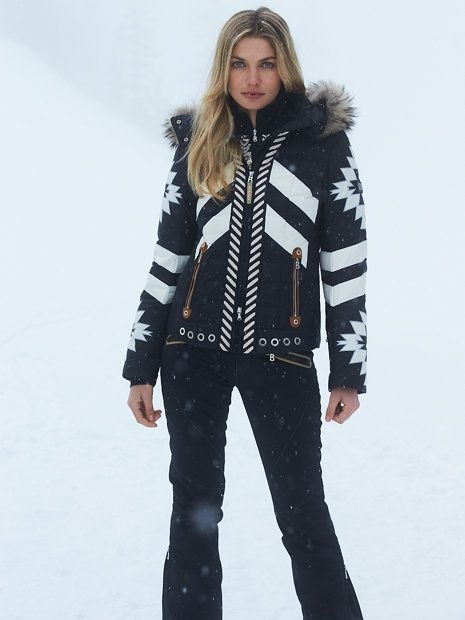 Jackets...Ski Jackets & More
We highly recommend bringing at least 1 other jacket besides a ski coat. While you might be sashaying down the mountain during the day, it is nice to change out of of your ski coat post après-ski and wear something nicer to give yourself a new look. Down jackets (especially fur lined or metallic) are great options for the chilly temps in Vail. While you will see some women in fur coats, it is not super common. You will look modern and fashionable in a down jacket that is belted, fur trim or with shearling. Shearling-lined leather jackets are another great option.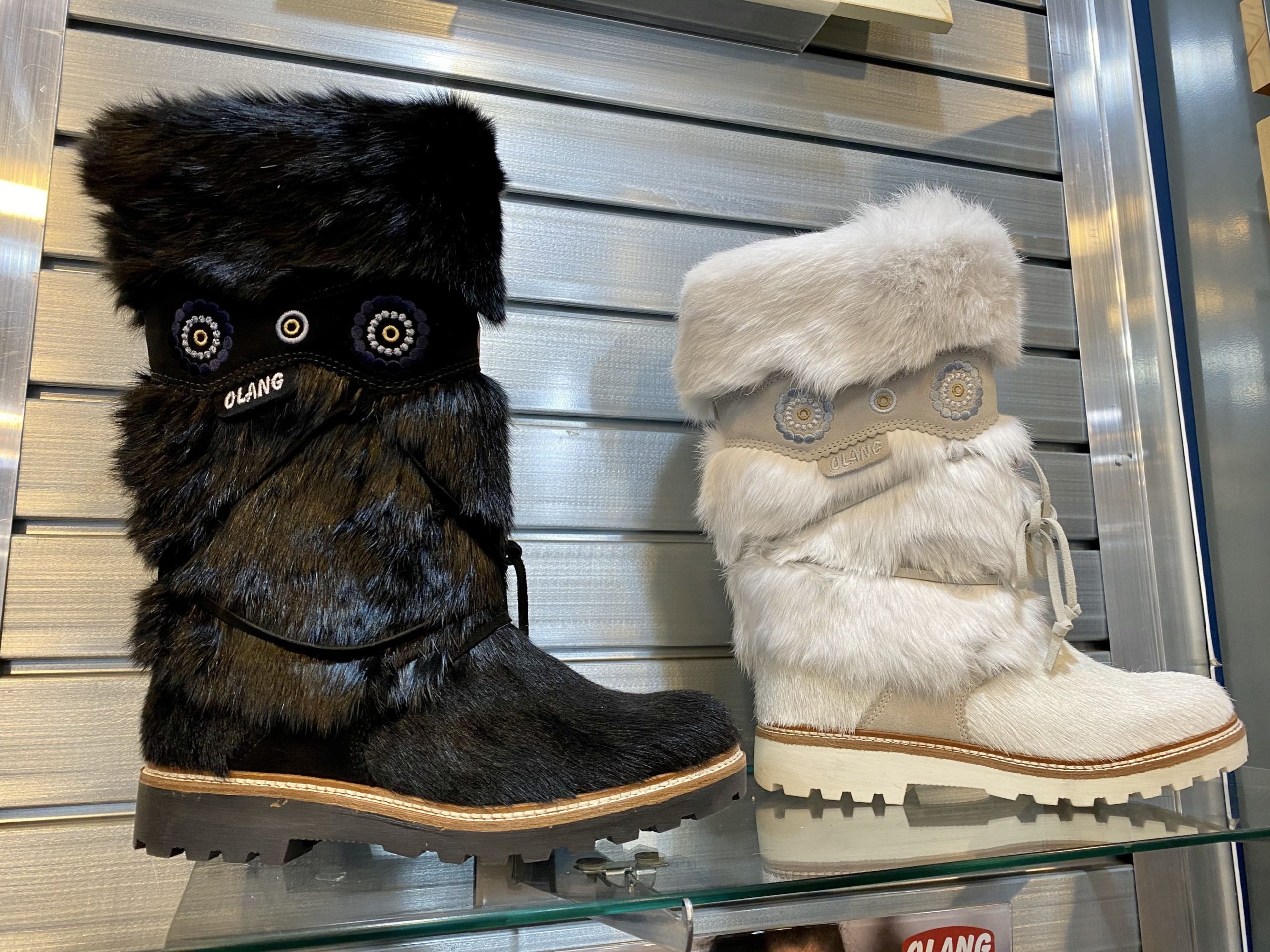 Waterproof Warm Boots
Take off your ski boots and slip into something a bit more stylish yet warm. It can snow heavily (3 feet in one day while we were in Vail last week) so you need boots to keep your feet warm as you go from your resort or hotel to the mountain, Vail Village, Lionshead or out to eat and shop. While the walkways are heated in Vail Village (WHEW!!!) therefore melting the snow, going from the parking decks, shuttle or hotels to get into somewhere it is often snow covered so keep your feet warm yet stylish. Flat fur and wool trim lined boots are ideal.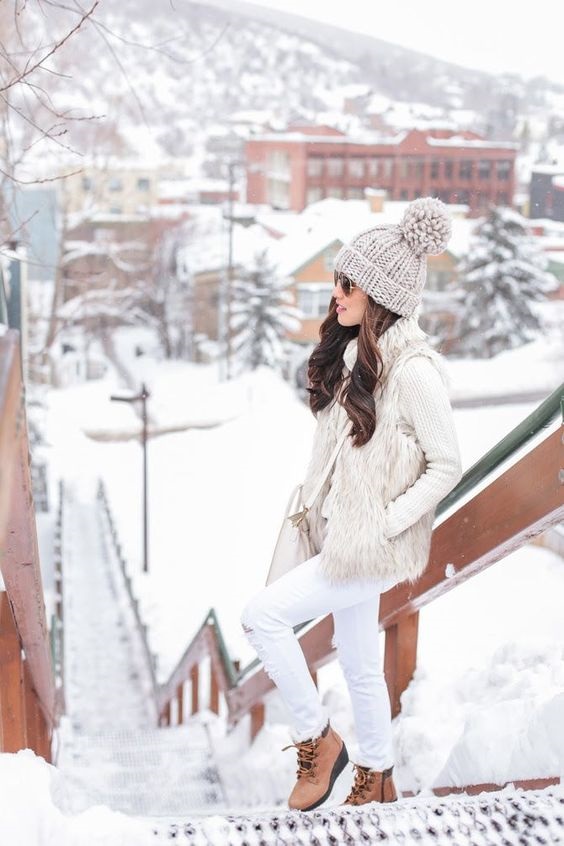 Cardigans + Knit Sweaters
It gets warm in the bars and restaurants so you don't want to layer too heavily but a chic long cardigan is your perfect layering piece. Wear with a silk blouse/top or mock turtleneck to be able to take the cardigan off if you get warm in the bars and restaurants (or if you go dancing...SHAKEDOWN has great music and dancing). A cardigan with beading, fringe or fur-trim gives you that stylish flair while out and about in Vail.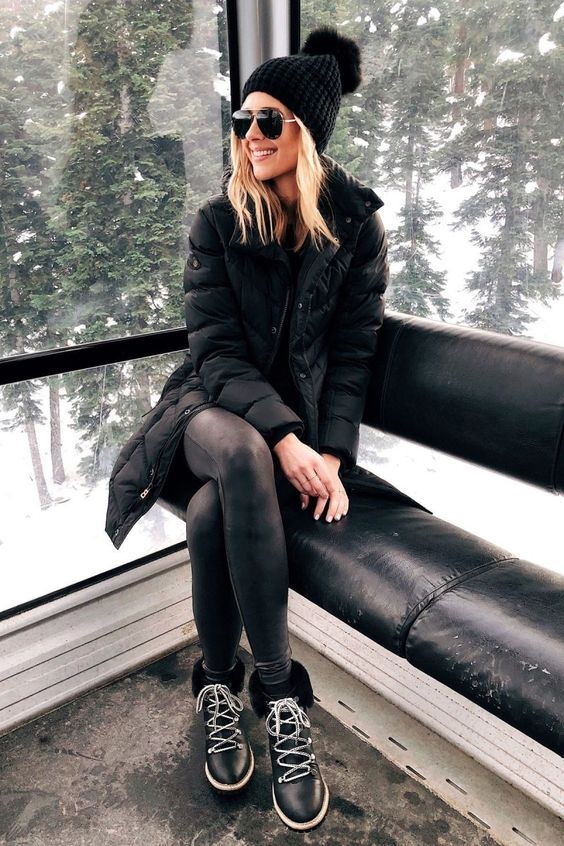 Leather Leggings and Coated Jeans
Looking stylish is key when you are out and about shopping, at brunch or lunch, grabbing drinks, or listening to live music with cocktails by the fire. We love the elegance and simplicity of leather leggings (especially in rich navy or burgundy) and coated or resin jeans. Both give a sophisticated and polished look while keeping you warm in the chilly temps.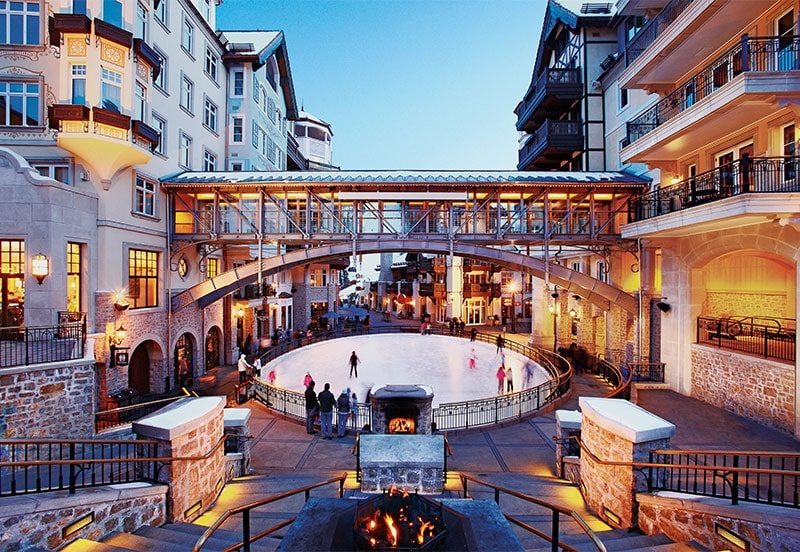 Where to Shop in Vail...LIONSHEAD
Ski shops are everywhere in Vail, so if you are heading to the slopes to catch the lift in Lionshead or take the Gondola up in Vail Villagestop for a bite to eat at Vail Chophouse, Tavern at Vail Square for more upscale dining with outdoor options or a drink at Garfinkel's (Garf's by locals) to see skiers come off the slopes. Bart and Yeti's is another fun option though it has no views of the mountains.
Lionshead has ski rental options should you be renting demo ski's or want to test out boots/skis before you purchase. Outdoor DIVAS is a female ski shop with both ski apparel and rentals plus a small selection of clothes. In Lionshead you will find more ski lodge clothing with a bit of bling. From Swarovski crystal sweaters at Vail Sports to sequin quick dry SKI top at Double Diamond Ski shop where I found the cutest fur pom hat, men's sunglasses and much more. To shop cute sweaters, jeans, jewelry, fur jackets and reasonably priced jewelry + the best menswear selection of button-downs, blazers, and leather coats head to Arriesgado Clothing Company.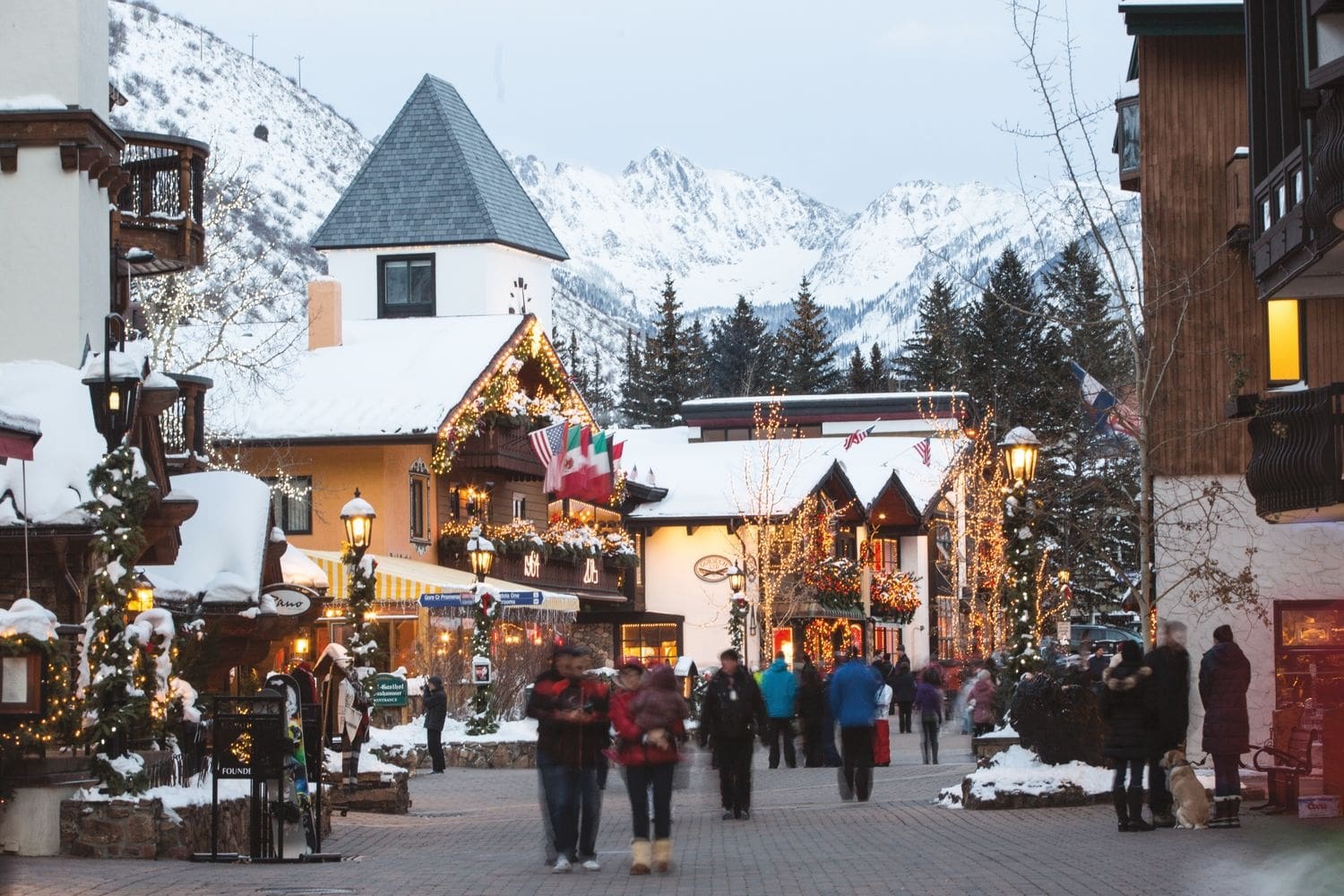 Where to Shop in Vail...VAIL VILLAGE
Gorsuch to Axel's and Formation, high-end shopping is abundant in Vail though finding unique pieces at reasonable prices is available too. You may find a Swarovski crystal women's rose gold ski helmet by KASK for 20K to one with a few crystals more reasonably priced at $675. As you can see there is a range of luxury to reasonably priced shopping options in Vail.
Pano European Boutique is a favorite for print blouses and tops to silk jumpsuits. Here you can customize a blazer from Coco Chanel vibes to crazy expressions such as STAY WILD. Blitz Boutique on the outer edge of Vail Village, carries designer denim brands you know and love -DL 1961, 7 for all Mankind- to select and stylish sweaters, vests, pants and skirts. Their unique mix of pieces takes you from the ski lodge to an island vacation. Unique mix of shoes, jewelry, bags, hats and more guarantees you'll find something. Perch offers a unique mix of custom blazers, fur jackets, leather coats, dresses, tops and more. From resort wear to casual lounging pieces from brands you know and love to fresh new styles and brands, this boutique is definitely one to shop! Valbruna is a fantastic men's and women's boutique, perfect to shop ski sweaters and jackets to Mitchie's Matching fur trim gloves or an RFID leather wallet. 
Take a break from shopping with lunch, après ski or dinner at Vendetta's. Known for their pizza but their pasta dishes, salads, and vino are the best too! It gets packed at the bar by 3 or 4 so get their early!
Where to Eat in Vail
If there over the weekend, VINTAGE is a must for a delicious brunch, leisurely cocktails or evening bites. The French style cafe and food is spectacular and was one of THE BEST meals I had in Vail. The Swiss or American Galette is divine as is the baked brie and the crab salad. Try their winter cocktails and unusual blood mary's to start your day or an early afternoon cocktail. Sweet Basil is without a doubt a favorite. For après ski sit at the bar and enjoy the truffle fries or bacon double burger (you can sans the bacon too) which is substantial to share. The sauce makes it superb. Lamb fondue comes highly recommended. The lobster roll is a light bite but decent. Do not leave without trying the Hot Sticky Toffee Pudding Cake...it is divine and one of the top desserts anyone in our group has ever tried. Mountain Standard, sister restaurant to Sweet Basil came highly recommended. If you are not a meat lover, this is probably not your spot. The pimento cheese appetizer was quite good. Chicken was slightly dry and  Matsuhisa is the spot for a glass of wine or cocktail for après ski. If you can't get a table reservation (plan ahead for this), sit at the bar and put your name on the list or you can eat there. It is worth it. There are quite a few good steakhouse restaurants in Vail. We tried Elway's (from John Elway of the Denver Bronco's. They have 3 other locations in Denver too). If you can get a table in the main room (close to the bar) that has the best people watching and ambiance. Try the grilled artichoke appetizer. So good that we got 2! The NY strip steak is substantial and served "baseball" style aka how baseball players have requested it (with lots of sides for the potato). The iceberg wedge salad is super garlicky (yuck!). We had one of THE BEST cocktails at Elway's...very light and refreshing tequila drink. We liked it so much we went to the bar afterwards to have another!