Spring prints are fun, playful and can be totally outrageous styled in the right way. Follow these guidelines to make your spring prints flattering and trendy.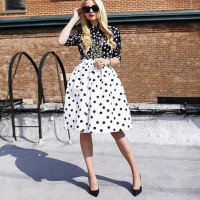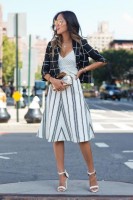 Print on Print
Go for bold wearing a print on print style. A trendy way to do this is to swap colors. Go retro with polka dots, pairing a black based shirt with white dots with a white based skirt with black dots. Contrasting colors is an easy way to make pairing prints easy. Pair stripes with plaid or floral. Wear one bolder print with a smaller print to ensure the prints do not overwhelm you. Stripes, polka dots, and plaid are easy to intermix in sizes and colors.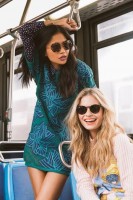 Color Palette
When pairing two different patterns opt for one bolder print + one "neutral" print from the same color palette. A neutral print is usually basic print such as thin stripes or small polka dots. Wear the neutral print in a color from the same color palette, or an under tone of a color from your bold print to keep your look from stylish and chic.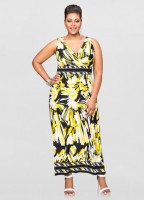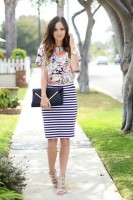 Figure Flattering
The key to making prints figure flattering is not to wear prints that are bigger than your fist. The taller you are, the bigger the print you can wear. Petite women want to look for smaller prints and fuller figure women should wear medium-sized prints accentuating your features without overtly drawing the eye. Large prints can overwhelm the body and detract from your features.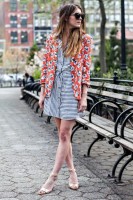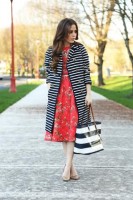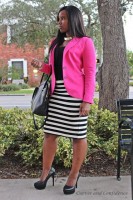 Stripes
Stripes are a must-have spring print. For petite women horizontal stripes look chic styled with floral and other prints. Regular and full-figured women, horizontal stripes give an illusion of added weight which no one wants. Wear smaller stripes if it is horizontal or opt for vertical stripes which make all body types look taller and slimmer. Vertical stripes give you the body you've always wanted keeping you chic and springy.
Ready to update your style for spring? Want to learn what prints work best with your body? Check out Divine Style's styling services to be springy & stylish. Follow Divine Style on Instagram for the men's & women's spring fashion looks.
*This fashion blog is written by Megan Marine.