Spring is the season of layering your look with style. As the temps change through out the day, layering your look is key. T-shirts worn with button down's, blazers and spring jackets are style essentials. But how you wear the tee is key. Don't be frumpy by pulling these 2 men's style mistakes.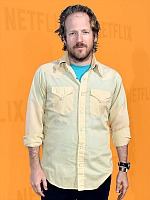 Actor David Sullivan wore this yellow button down shirt layered over a turquoise crew neck t-shirt to a movie screening for Jessica Jones. While bold colored shirts can be layered stylishly under a button down, this contrast is too sharp. The turquoise color is stronger than the light yellow which makes your eye zoom to his tee instead of looking at his face and then your eyes capturing his full look. This color combination looks harsh paired with dark trousers. Instead opt for light or medium gray trousers with a light blue t-shirt.
Round neck or crew neck t-shirts tend to chop your face and make your eye look at you in blocks or sections. This keeps your eyes on your face instead of sweeping downward, which is what you want. Don't make these gentlemen's style mistakes.
Layer a Striped Tee…for a stylish change to your look.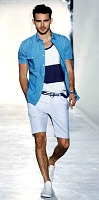 V-necks…are the most flattering cut as it draws your eye from the face downward and back up. For a bold color or print blazer (stripes, plaid, paisley) style that with a neutral t-shirt to let the jacket be your pop piece. Style a v-neck graphic tee under a blazer. Let the t-shirt design be the statement piece in your look.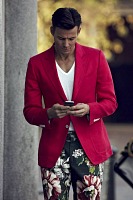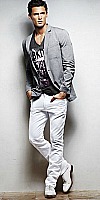 Gentlemen, be stylish this spring with Spring's Freshest Fashion Gear for Men.