New Look, New Style....Dressing With Success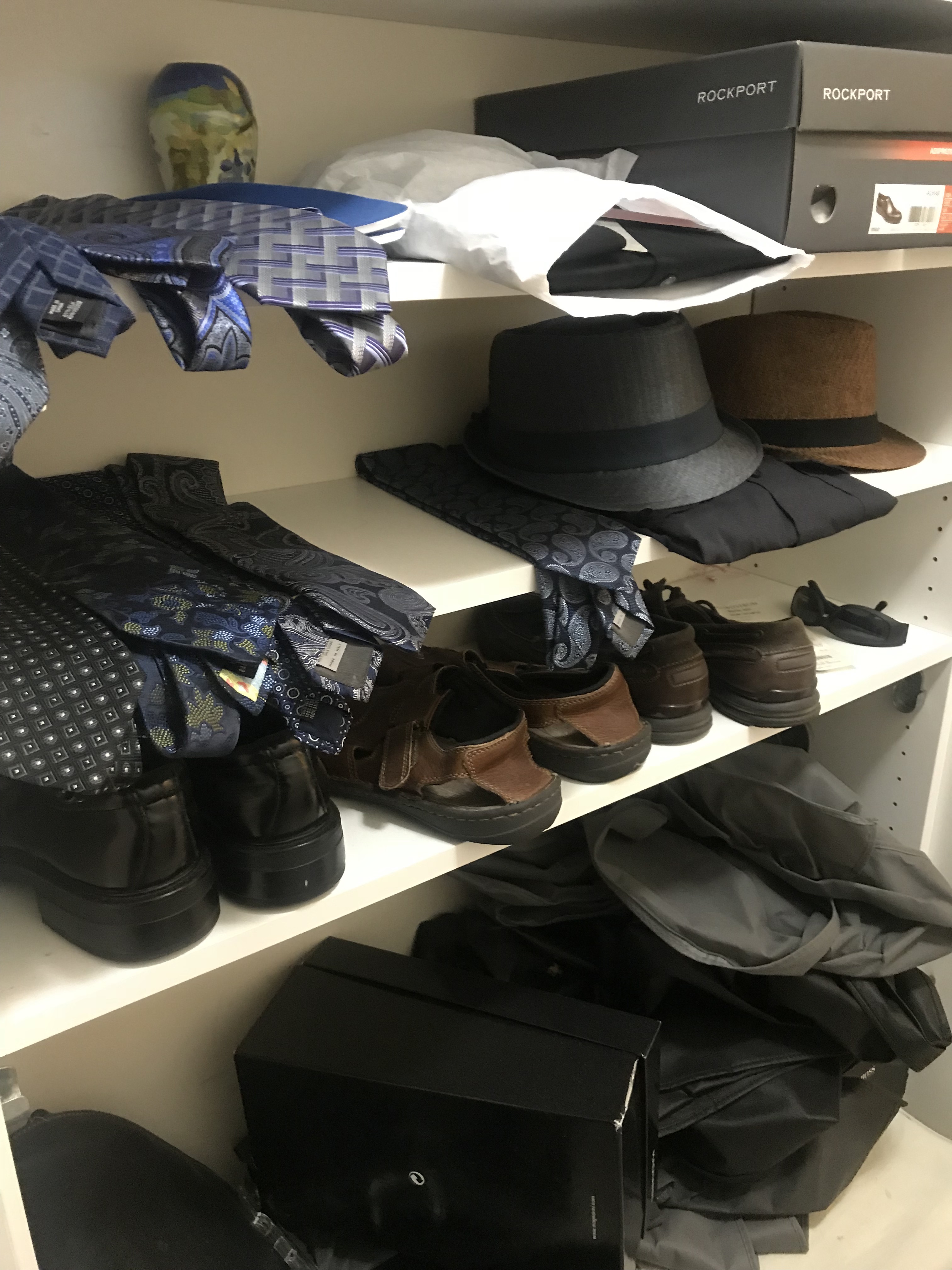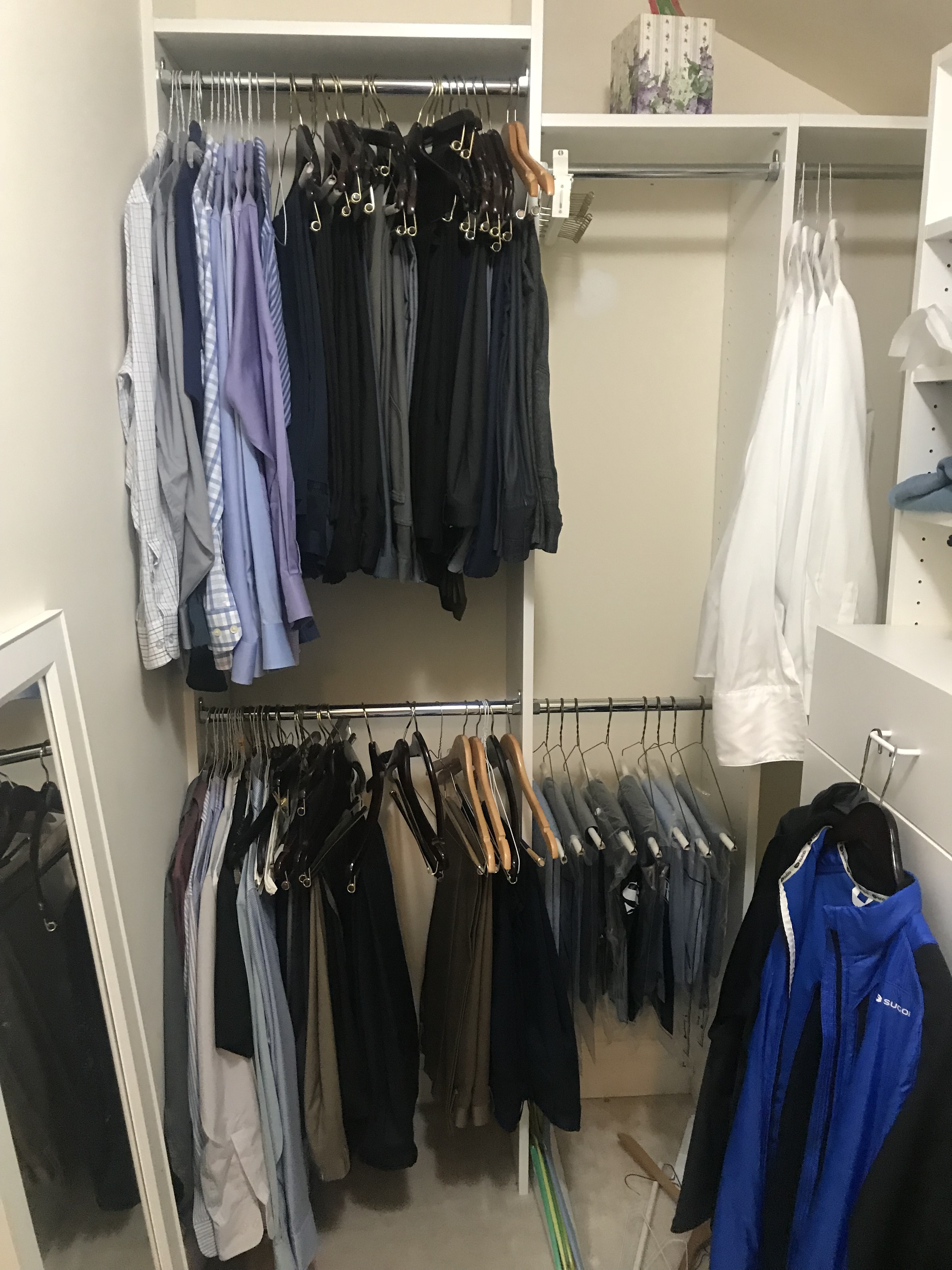 Steven, a busy lawyer based in Washington, DC, likes to dress well for work, date night, and outings with his daughters. However, his closets are full of clothing but separated into two closets which makes him race back and forth not knowing where pieces are.
After his initial consultation it was determined that a mix of a closet edit and design, where Divine Style merchandises and organizes your clothing, shoes, and accessories to display things in a way to maximize space and usage plus an in-home style session teaching him how to put together outfits for the courtroom aka a professional conservative environment to business casual in the office, date nights consisting of dinners and theater shows, plus casual evenings such as movies and relaxed restaurant dining.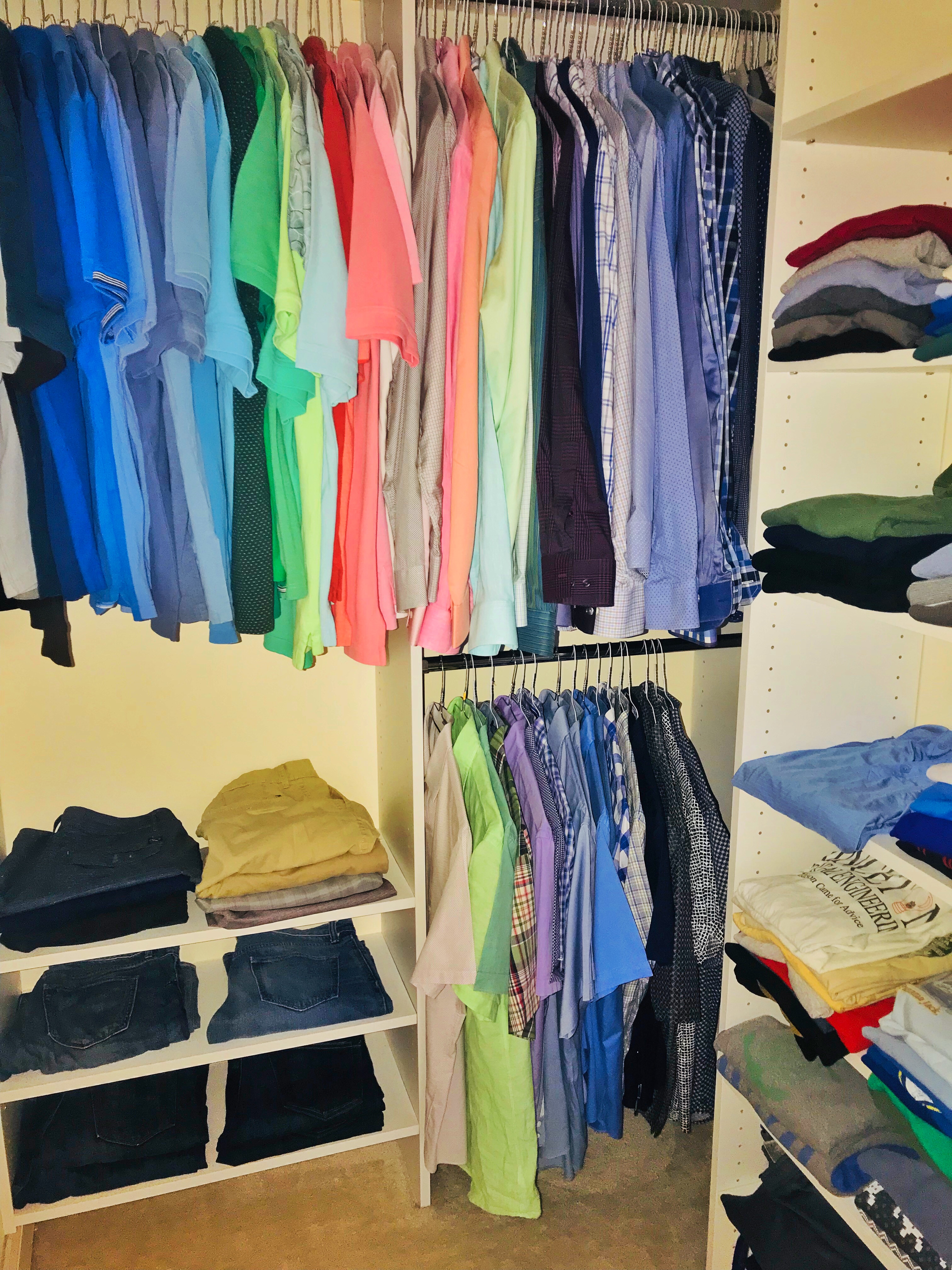 casual closet newly organized
We began with placing the clothing from both closets on clothing racks and reviewed both the fit, condition, and quality with Steven. Anything in need of tailoring was shown to the client and marked with tailoring solutions. Anything clothing that is not in wearable condition based on fit, fabric, or condition was placed into categories...donation, throw away or consignment.
Next we organized items that we go into each of the two closets, either professional business clothing and seasonal pieces (which isn't currently being worn) in closet #1 the business closet. Closet 2 contains casual clothing such as jeans, workout attire, button-up shirts both short sleeve and long, plus casual shirts in his casual dress closet which covers weekend, date night, and evening events.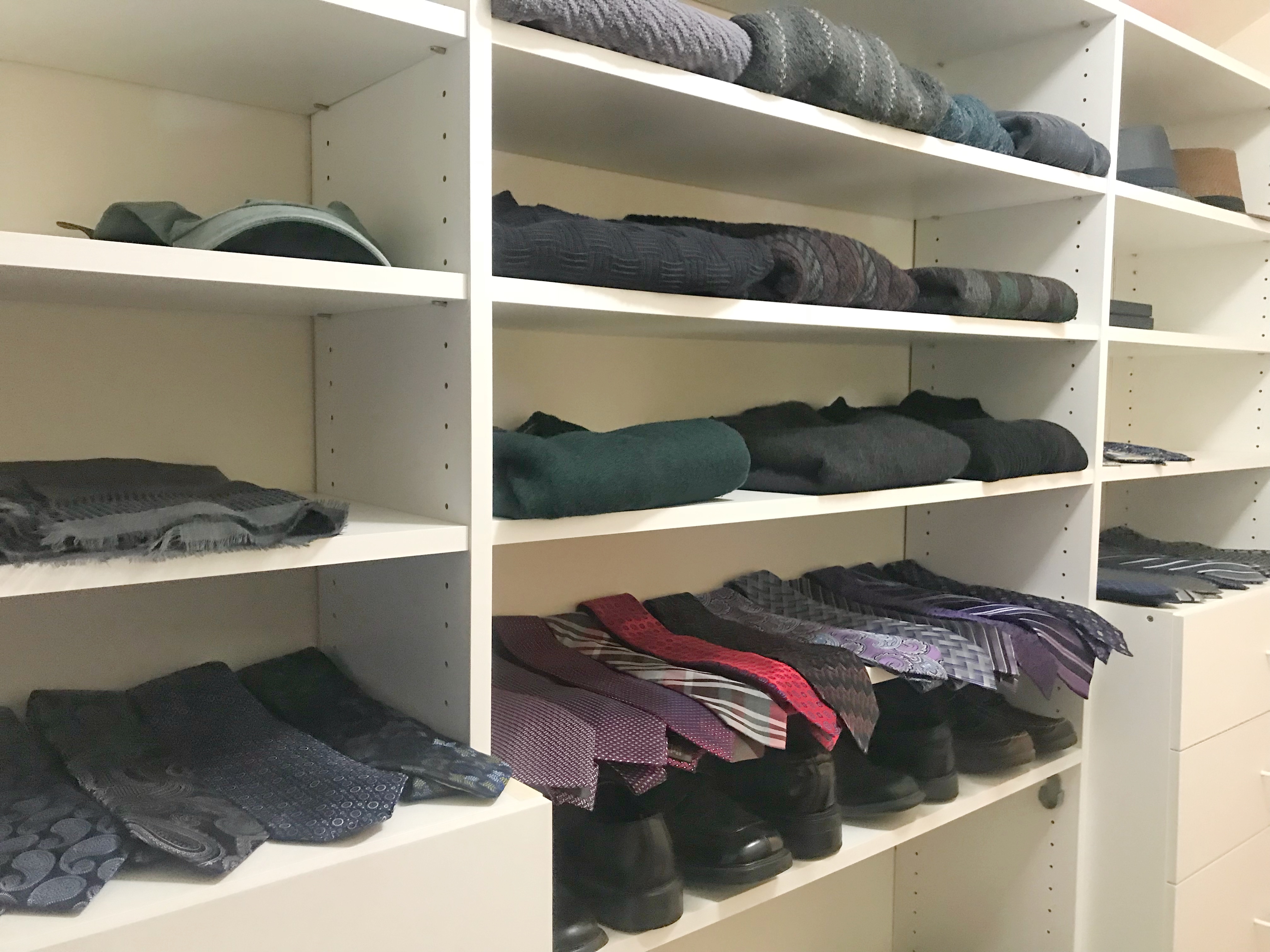 Shelves were used in Steven's closet to showcase his ties, organized by prints and color so he can coordinate with suits and shirts easily.
Chunky knit sweaters are folded on shelves as the bulk of the sweaters are too roomy to hang. This allows the clients to see the color and fabric of each sweater. Accessories such as scarves, hats, and watches are placed at eye level to make this easy to see when getting dressed. Dress shoes were placed on shelves underneath ties showing both toe and heel to see the style making them easily accessible to add to an outfit.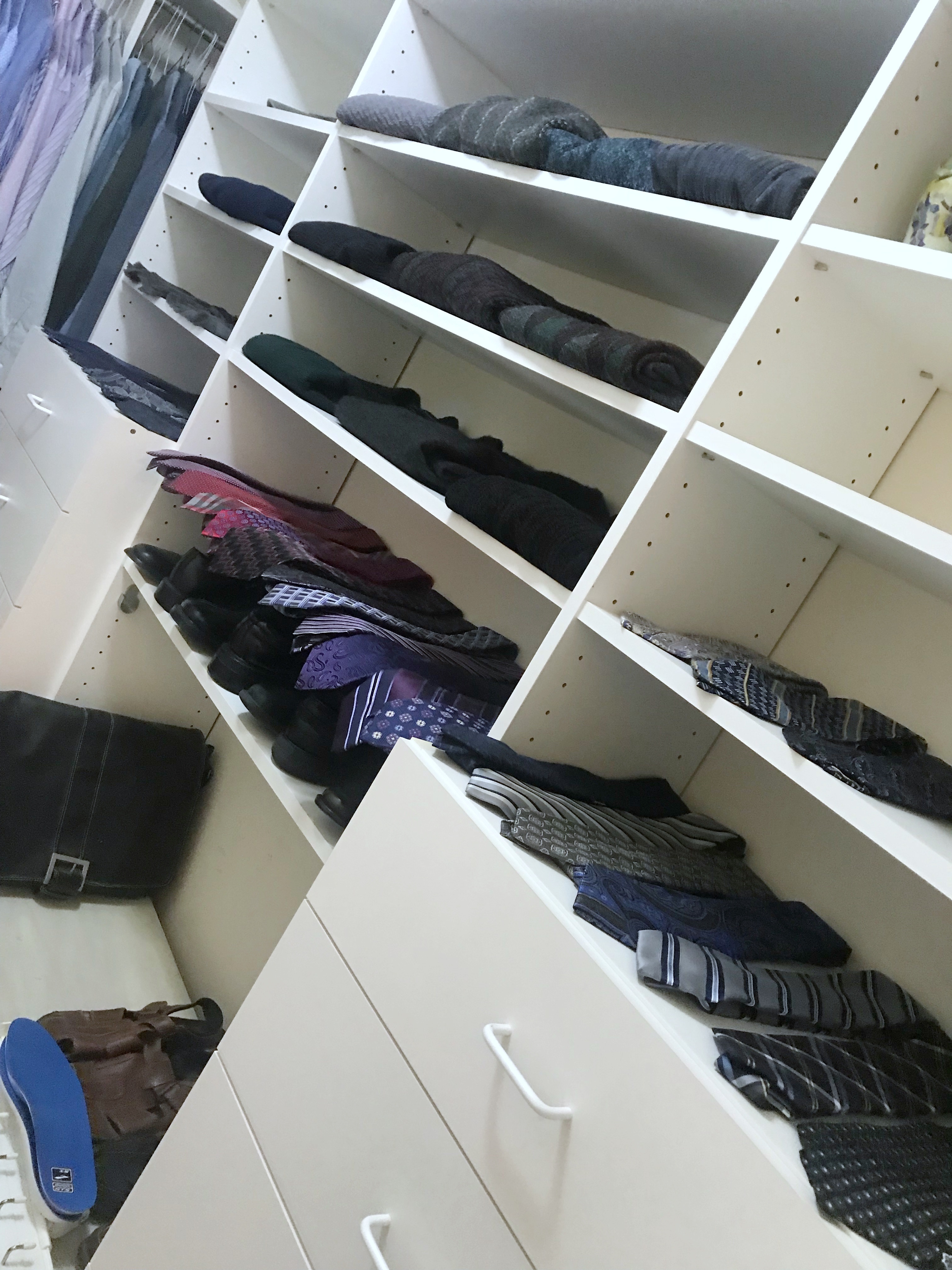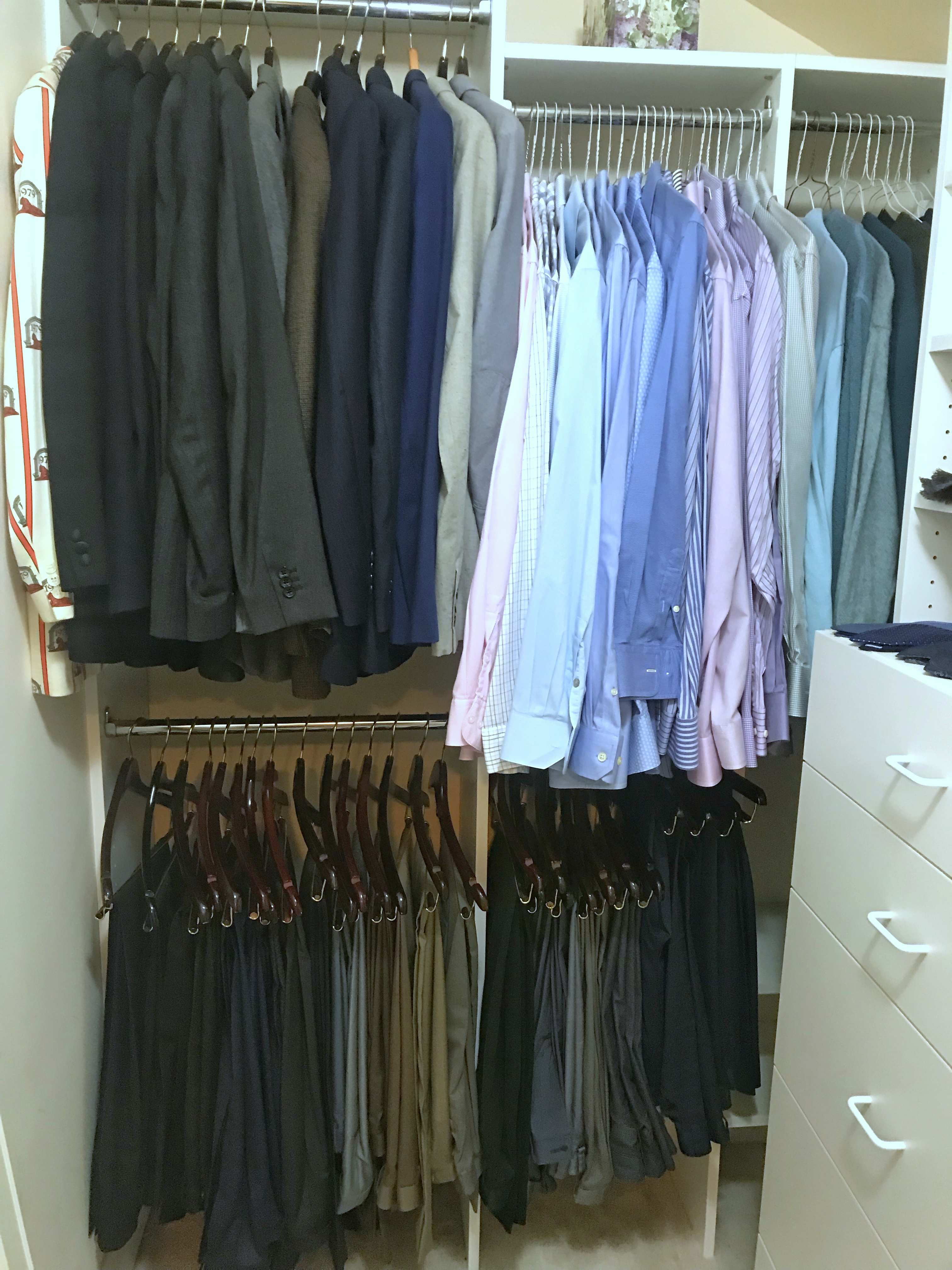 business closet newly organized
The client's second closet for professional attire is now completely organized so he can get dressed easily seeing his suits and tuxedo ranging from lightest colors to dark and summer weight fabrics to heavier wool fabrics. Dress shirts and sweaters are hung and ready to be easily accessorized with his scarves, ties, hats and watches. Stylish panache at its best!
Stay tuned as we share tips for coordinating suit fabrics and styles with button-down shirts, ties, and pocket squares making professional polish or elegant evening attire easily accessible.
To learn more about the closet edit process or to book a closet edit with Divine Style click HERE. We offer in-personal and virtual styling services.