Be on trend this season gentlemen with these tips. Don't make these men's style mistakes giving you a dated look. These 4 style tips + fashion no-no's will have you on trend and fashion-forward gentlemen.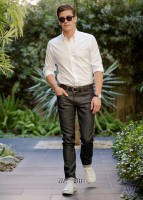 Ditch the belt around waist of jeans + tucked in shirt look. While belts are used to cinch the waistline of your pants, they should be worn as a stylish accessory. Tucking in your shirt showcases the belt with a blazer worn over the shirt. Contrast the belt with the shirt design and blazer color to play off each other. Light colored belts, such as white or light gray, are on trend for spring.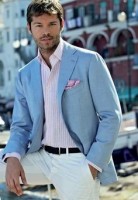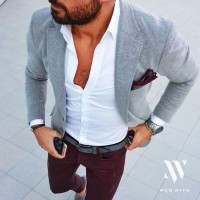 Don't be passe in a completely tucked in button down shirt. Instead wear untucked shirt. Layer with a sweater, vest or blazer for an on trend men's style.  Or half tuck with the front of the shirt in + a stylish belt showcasing the buckle.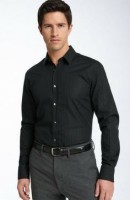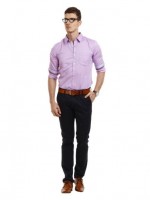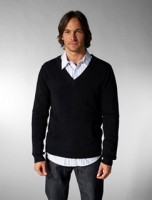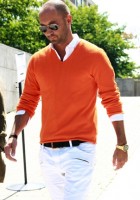 Trim the shirt fat, which makes you look larger and rumpled. Opt for a slim fit, close to your body. This makes you appear leaner no matter your build or size. Shirt cuts vary so know what you are shopping for.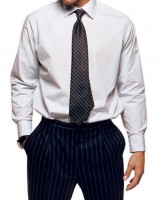 Men's Shirt Cut's:
American Cut, Classic Fit=larger, boxy shape
Slim or Trim Fit=trendy style. Had accentuated darts to slim the shape and higher armhole stance for a svelte look sitting closer to the body, without being tight.
Modern, Contemporary Fit=mid-way between classic fit and slim fit.
European, Extra-Slim or Extra-Trim Fit=tailored cut very close to the body.
Dated footwear makes your style passé. The stark white sneakers and jeans look is a style no-no as is wearing your lace up shoes for casual styles. Stick those with your suits. Opt for colored suede oxfords or suede drivers for a casual, contemporary men's style.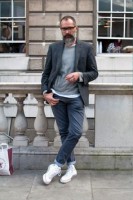 Check out men's spring fashion looks HERE + Fashionable Do's & Don'ts for Board Shorts and Bathing Suits. Have you made these men's style mistakes and need to update your men's style and learn what looks good on your body? Check out Divine Style's men's styling services.